Good Morning Messages to Inspire Someone Dear
The best way to start the day is with good morning wishes from a friend or a loved one. This Quotereel collection of good morning quotes will help you send wonderful inspirational greetings to someone special. Either choose the best one from these good morning messages that perfectly captures your sentiment, or use this collection to inspire your own personalized message.
1. This is your morning reminder that you are amazing and you can handle anything.
2. Every day is a new beginning. Take a deep breath, smile, and start again.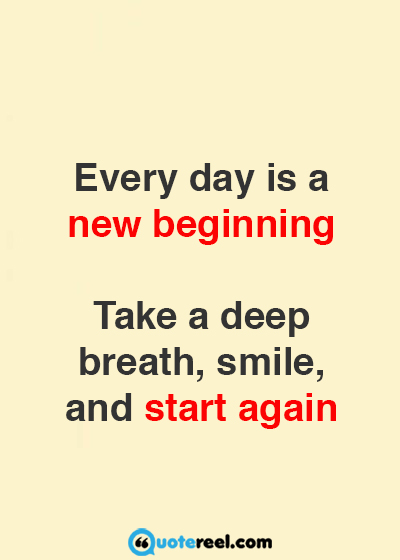 3. Good morning my everything. I love you so much.
4. With the new day comes new strength and new thoughts. – Eleanor Roosevelt.
5. Good morning. Wake up. Kick ass. Repeat.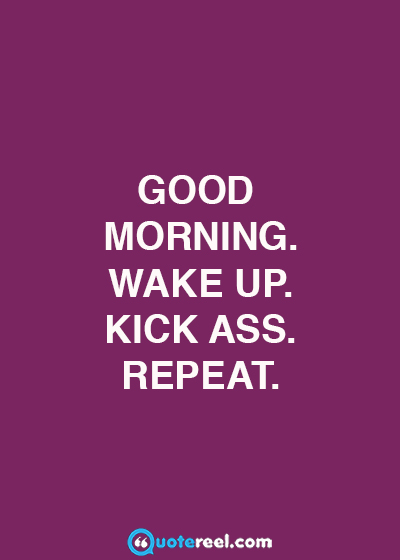 6. Good morning! Yesterday is gone, tomorrow is mystery, today is blessing.
7. Don't start your day with the broken pieces of yesterday. Every morning we wake up is the first day of the rest of our lives.
8. Good morning! This day is beautiful and so are you.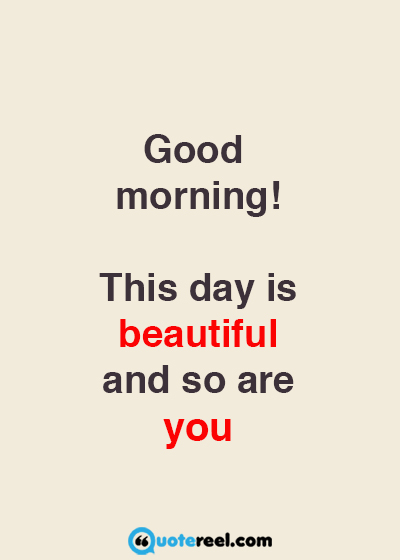 9. Good morning – I hope you feel beautiful today.
10. Just in case no one has told you today: Good morning! I believe in you, and you're doing great.
11. Good morning! May your coffee be hot and your eyeliner be even.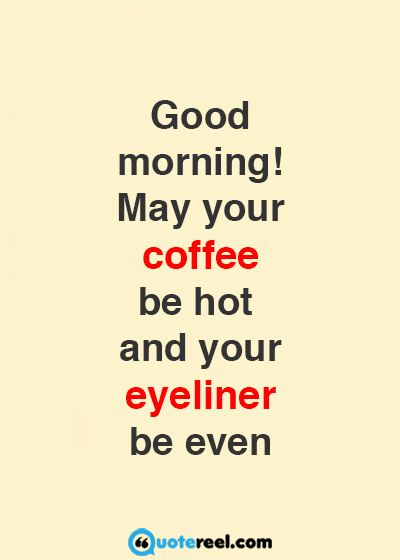 12. Good morning! Start the day with a simple smile!
13. A smile to start your day… A prayer to bless your way… A message to wish you a good day.
14. Good morning! Be the ENERGY you want to attract today.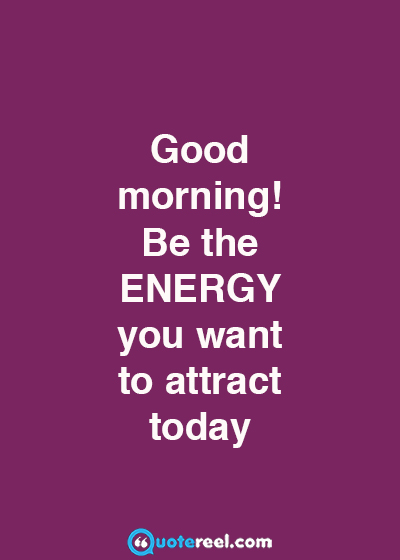 15. A great attitude is like a perfect cup of coffee – don't start your day without it.
16. Today is a new day. Whatever happened yesterday, good or bad, doesn't matter anymore.
17. Good morning! Let today be the start of something NEW.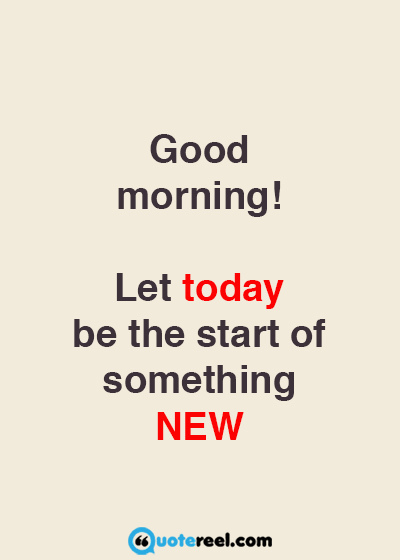 Sometimes you start the day thinking of someone close to you, and it's a great idea to let them know about it with a sweet message or a short motivational quote. Perhaps they are recovering from a difficult day before, or they are about to face a big challenge today. In either case, emotional support from a dear one can help them overcome their challenging situation. Or maybe you just want to let them know you care about them, no matter what they are going through.
18. Good morning! Welcome the new day with a smile. Have a great day my love.
19. The biggest source of motivation is your own mind, so wake up with determination and go out to win.
20. Today is going to be a great day my friend.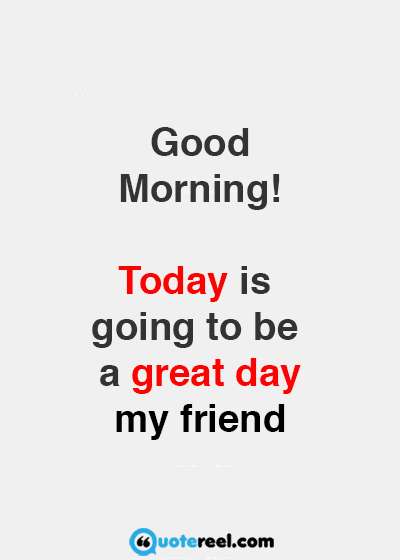 21. Good morning! Rise up and attack the day with enthusiasm.
22. Don't wake up with the regret of what you couldn't accomplish yesterday. Wake up thinking what you will be able to achieve today.
23. The BEST time for new beginnings is NOW.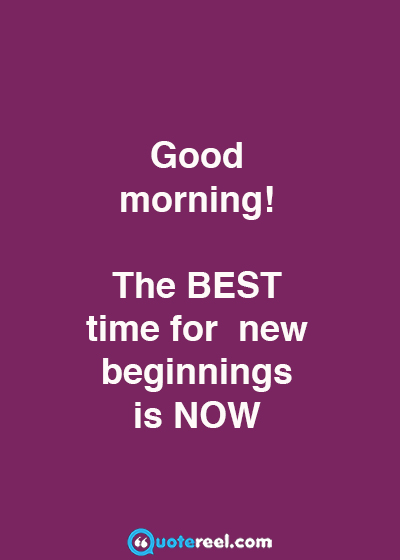 The morning is perhaps the most important time of the day, since it can set the tone for the entire day to come. So it's very important to get a positive start in the morning, in order to make the most out of each and every day. Thinking positive thoughts and sending good wishes can make a big difference for both the sender and the person receiving them. So don't hesitate, and send that inspirational good morning text to someone you care about, either via SMS, email, or social media. It will help to draw their mind in a positive direction, and help to make their day better.
24. Good morning handsome. I hope you slept well. I hope your day is wonderful.
25. Sending you sunny smiles and happy thoughts to brighten your morning.
26. Good morning! What you stay focused on will grow.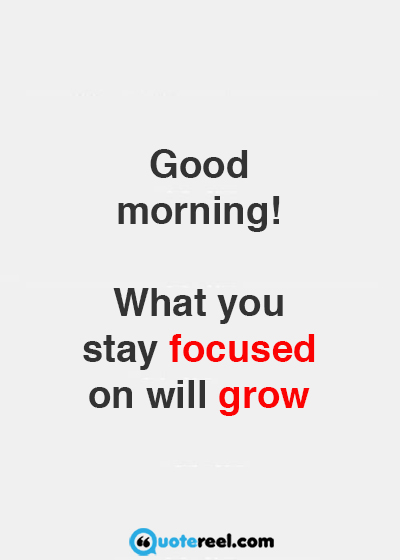 27. Hello, good morning! I hope you have a ridiculously amazing day.
28. Look for something positive in every day, even if some days you have to look a little harder.
29. Today is a new day. Let's crush it!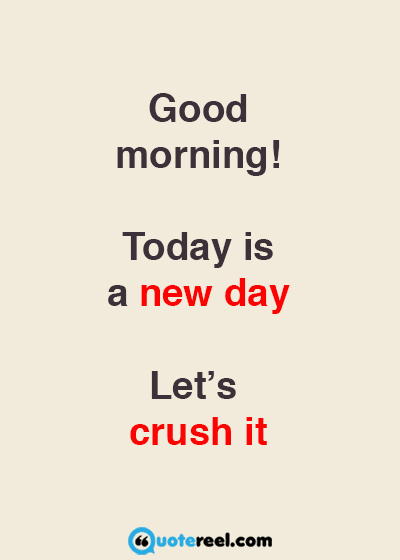 30. Good morning – have a great day full of joy and love.
31. Some days you just have to create your own sunshine.
32. You are AMAZING. Hope you have a FANTASTIC day!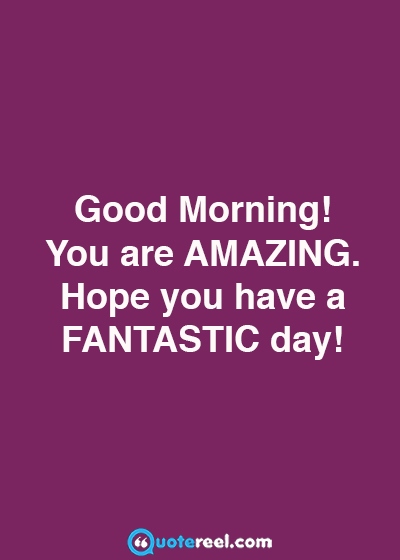 If we are going through tough times, it can be tempting to feel negative emotions about it. But we do have a lot of control over our thoughts, and positive thoughts can change our emotions from negative to positive. That's why it's important to work on cultivating positivity in the morning when we set the tone for each day. What could be better than receiving an uplifting message from a loved one to help us with that?
33. Make today so awesome, yesterday gets jealous.
34. Take my love with you today as you face your challenges. You have what it takes to do great things today!
35. Good morning! Everyday is a fresh start.
36. Take my love with you today as you face your challenges. You have what it takes to make great things happen today!
37. Hope your day begins with love and ends with beautiful memories.
38. Good morning! I hope your day is as bright as your smile.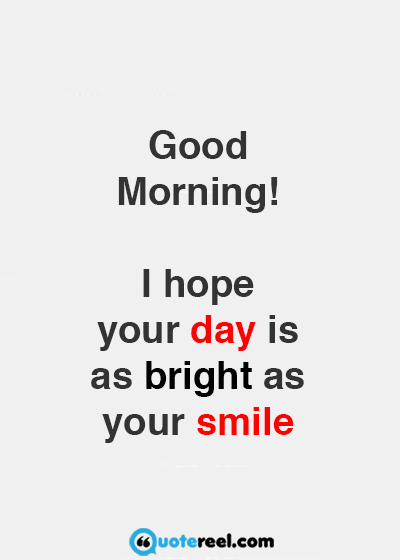 39. Good morning! Make great things happen today.
40. I wish a good morning to the person whose kisses are the reason for my happiness, and whose hugs make my life priceless.
41. We are never too old to become better versions of ourselves.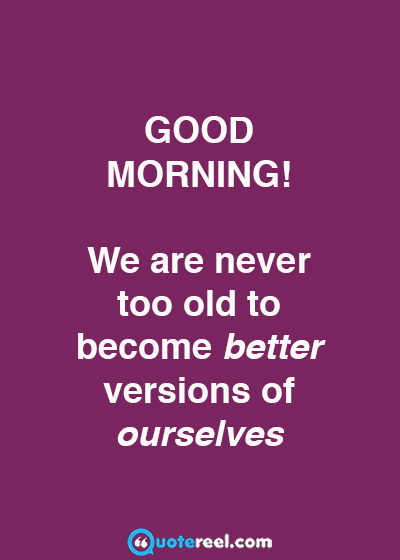 42. I just woke up and you're already on my mind. Good morning my love!
43. I love you like I love my morning coffee.
44. Good morning love. You are a blessing from above.
45. Being in love with you makes every morning worth getting up for.
46. Sending warm wishes your way, may they brighten your day like the morning sun.
47. Good morning! I love the sunrise because every morning it reminds me that I have another day to spend with you.
48. Everyday is perfect because I wake up wishing a good morning to you.
49. Today is a new day full of endless possibilities. Make a difference.
If you enjoyed this collection of good morning messages, you might also like these thank you quotes.