About Our Anniversary Poems:
Celebrating an anniversary is a significant milestone in every relationship. Finding the perfect one for you among the millions of people in the world and surpassing another year with them makes you believe in happily ever-afters. Being in a relationship, however, has its fair share of ups and downs. The road is and will never be smooth; there will be lots of stops and turns along the way but if you believe in each other, there's nothing love can't handle. Cliche as it may seem, but it is true that if it's meant to be, love will find a way and you got the entire universe to help you.
And if you are blessed to celebrate another year of love with your partner, there are several ways to spice it up. Of course, you will never go wrong with a romantic dinner date, a sultry movie marathon or a fantastic holiday adventure. But to add some personal touch to your special day, make use of some touching harmony of words and unleash your artistic aura. To make it easier and convenient for you, here's a compilation of sweet words rolled into some beautiful anniversary poems for your other half.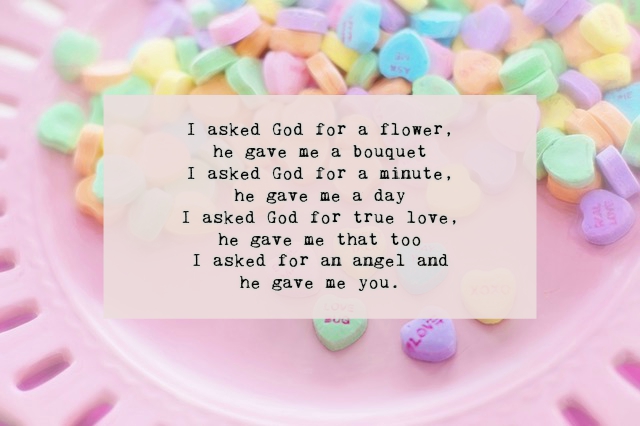 I asked God for a flower,
he gave me a bouquet
I asked God for a minute,
he gave me a day
I asked God for true love,
he gave me that too
I asked for an angel and
he gave me you.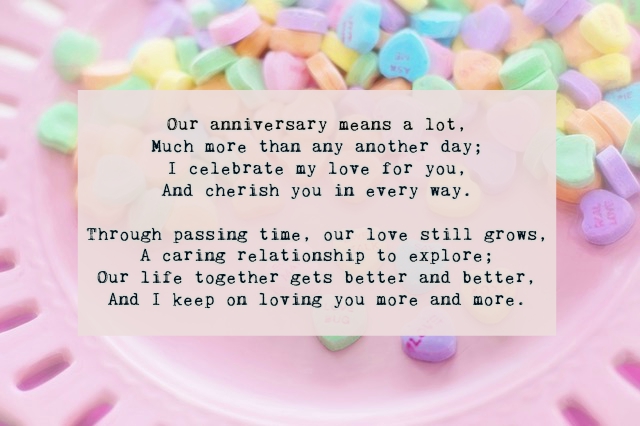 Our anniversary means a lot,
Much more than any another day;
I celebrate my love for you,
And cherish you in every way.
Through passing time, our love still grows,
A caring relationship to explore;
Our life together gets better and better,
And I keep on loving you more and more.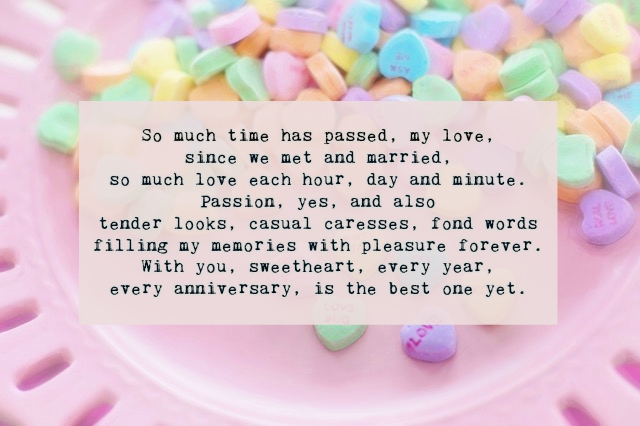 So much time has passed, my love,
since we met and married,
so much love each hour, day and minute
Passion, yes, and also
tender looks, casual caresses, fond words
filling my memories with pleasure forever.
With you, sweetheart, every year,
every anniversary, is the best one yet.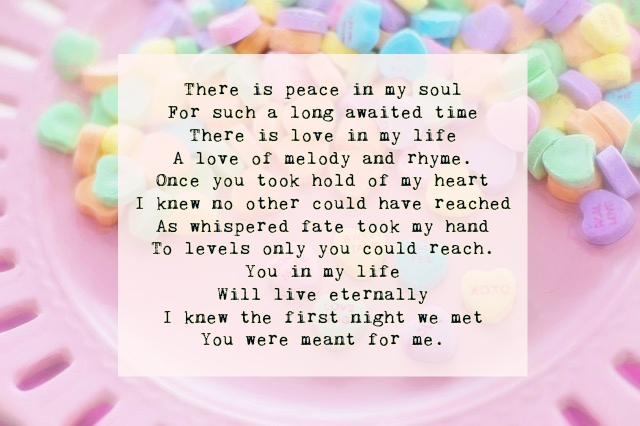 There is peace in my soul
For such a long awaited time
There is love in my life
A love of melody and rhyme.
Once you took hold of my heart
I knew no other could have reached
As whispered fate took my hand
To levels only you could reach.
You in my life
Will live eternally
I knew the first night we met
You were meant for me.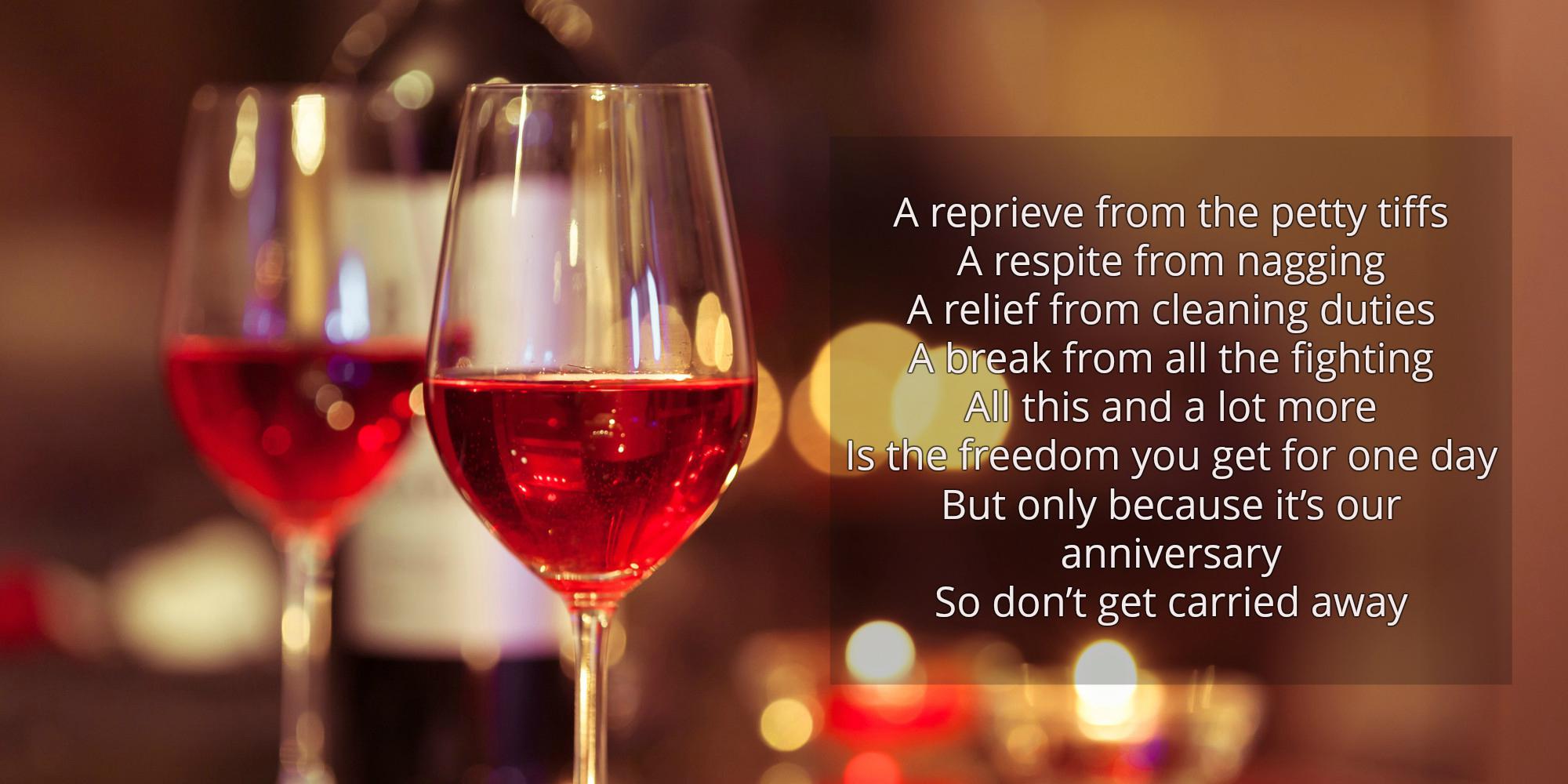 A reprieve from the petty tiffs
A respite from nagging
A relief from cleaning duties
A break from all the fighting
All this and a lot more
Is the freedom you get for one day
But only because it's our anniversary
So don't get carried away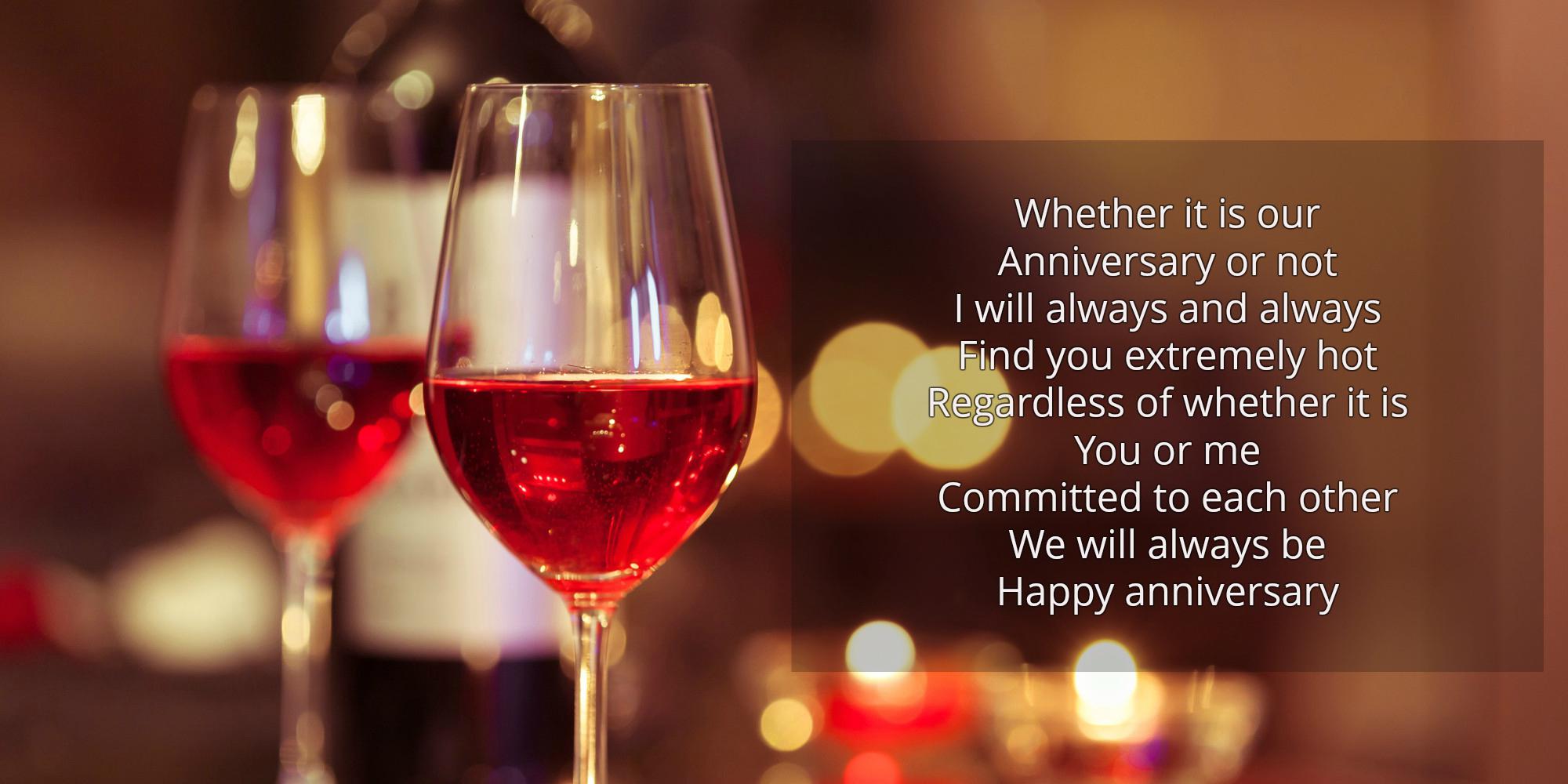 Whether it is our
Anniversary or not
I will always and always
Find you extremely hot
Regardless of whether it is
You or me
Committed to each other
We will always be
Happy anniversary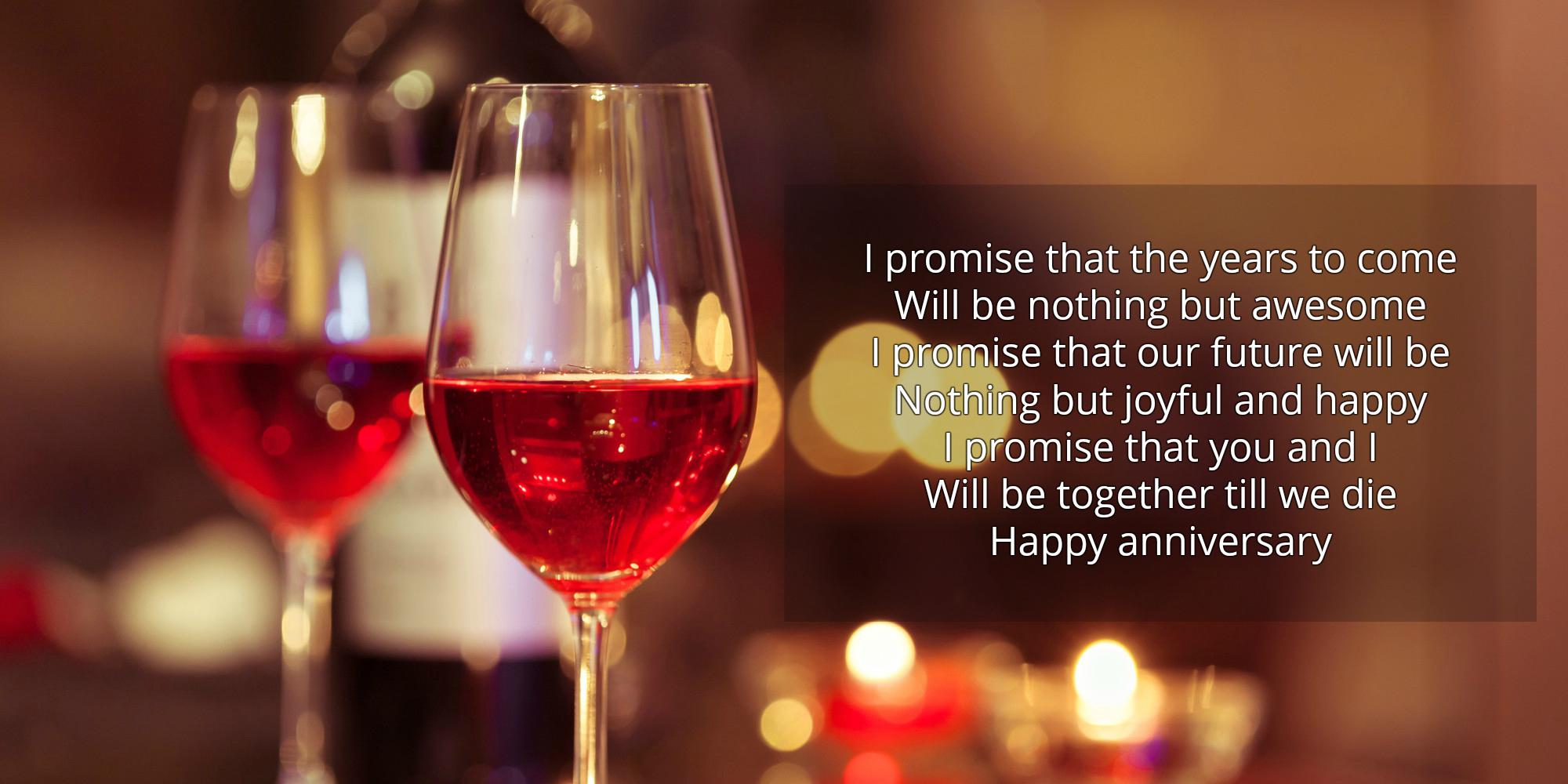 I promise that the years to come
Will be nothing but awesome
I promise that our future will be
Nothing but joyful and happy
I promise that you and I
Will be together till we die
Happy anniversary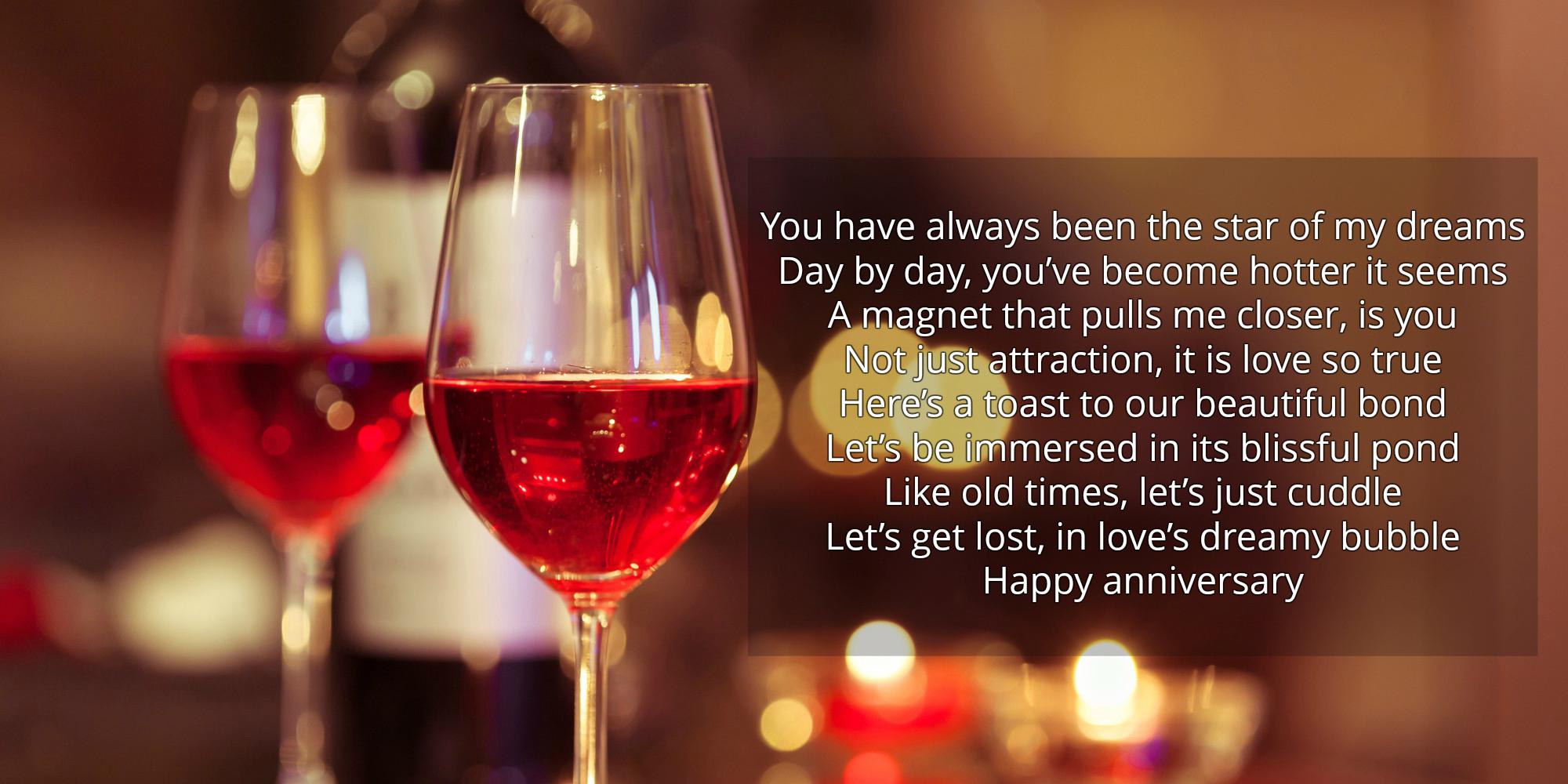 You have always been the star of my dreams
Day by day, you've become hotter it seems
A magnet that pulls me closer, is you
Not just attraction, it is love so true
Here's a toast to our beautiful bond
Let's be immersed in its blissful pond
Like old times, let's just cuddle
Let's get lost, in love's dreamy bubble
Happy anniversary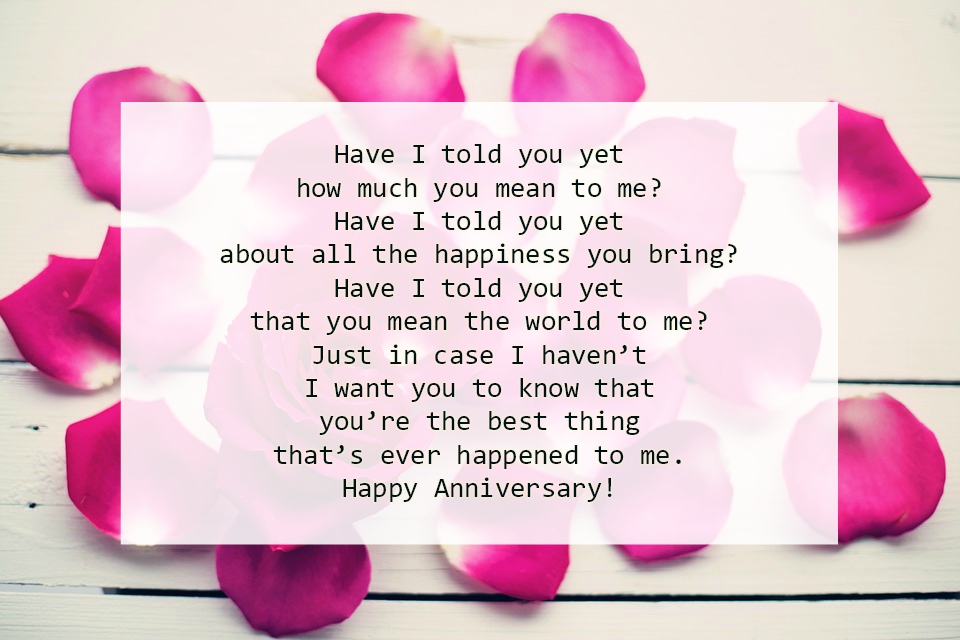 Have I told you yet
how much you mean to me?
Have I told you yet
about all the happiness you bring?
Have I told you yet
that you mean the world to me?
Just in case I haven't
I want you to know that
you're the best thing
that's ever happened to me.
Happy Anniversary!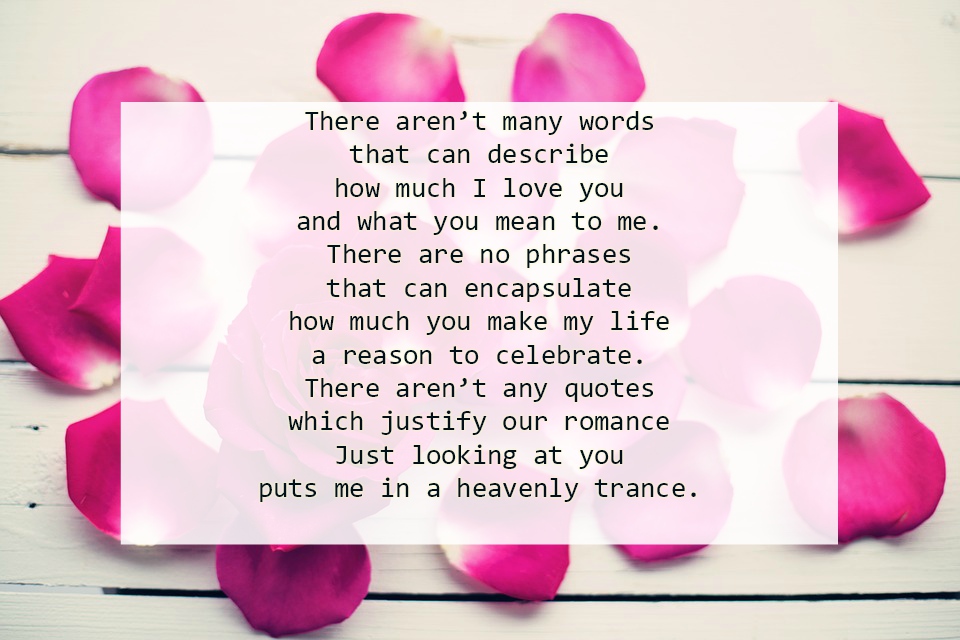 There aren't many words
that can describe
how much I love you
and what you mean to me.
There are no phrases
that can encapsulate
how much you make my life
a reason to celebrate.
There aren't any quotes
which justify our romance
Just looking at you
puts me in a heavenly trance.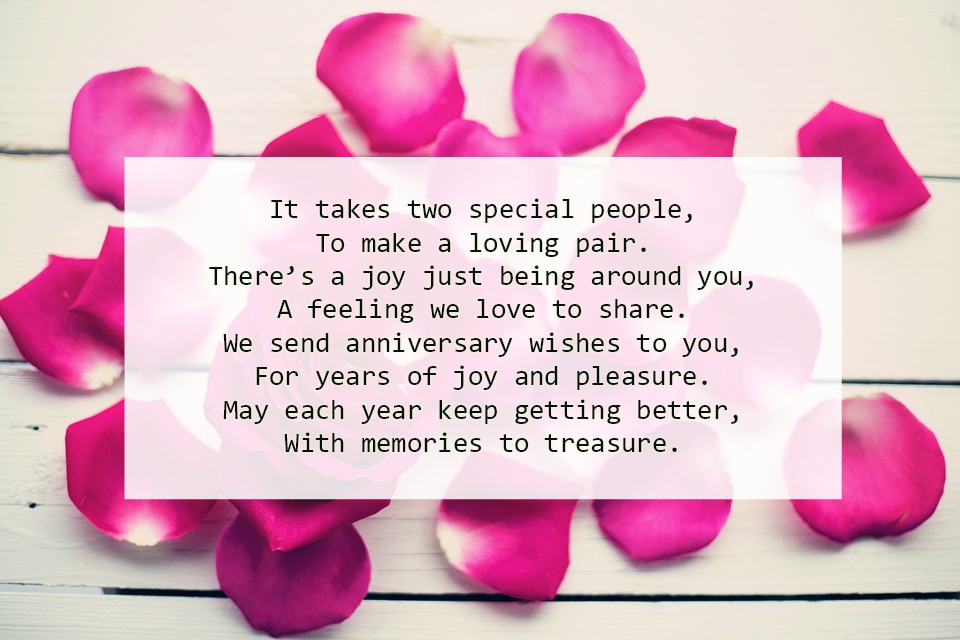 It takes two special people,
To make a loving pair.
There's a joy just being around you,
A feeling we love to share.
We send anniversary wishes to you,
For years of joy and pleasure.
May each year keep getting better,
With memories to treasure.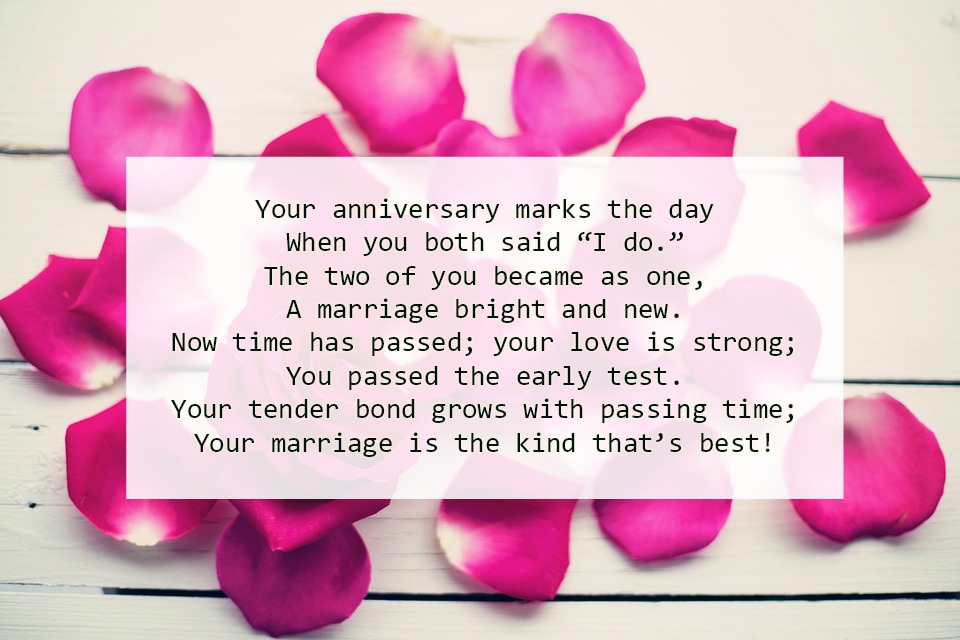 Your anniversary marks the day
When you both said "I do."
The two of you became as one,
A marriage bright and new.
Now time has passed; your love is strong;
You passed the early test.
Your tender bond grows with passing time;
Your marriage is the kind that's best!