About Our Father Daughter Poems:
In today's world, fathers have become more influential and inspiring on a daughter's upbringing. Daughters are sweet and playful by nature; hence, they need someone that will guide them along the way, and fathers one of the best persons to keep them on track. Though there are times when the father's role in a daughter's life is often overlooked as they tend not be as communicative and insightful as the mothers, these strong men are very potent and kind. Having a fatherly figure makes file more tolerable and comfortable. A positive father and daughter bond creates a win-win situation to both fathers and daughters. For the daughters, it can help them develop into a strong, positive and mature woman. Fathers seemingly builds their daughter's self-esteem and self-image, as well as their views on men. A father may not be the perfect model, but he is good enough in his daughter's eyes. And from then, seeing a daughter turn into a mature women with good values and right skill, fathers become very grateful of the whole fatherhood process.
And to fully nurture your father and daughter bond, here are some insightful father daughter poems that will surely leave a mark in your lives.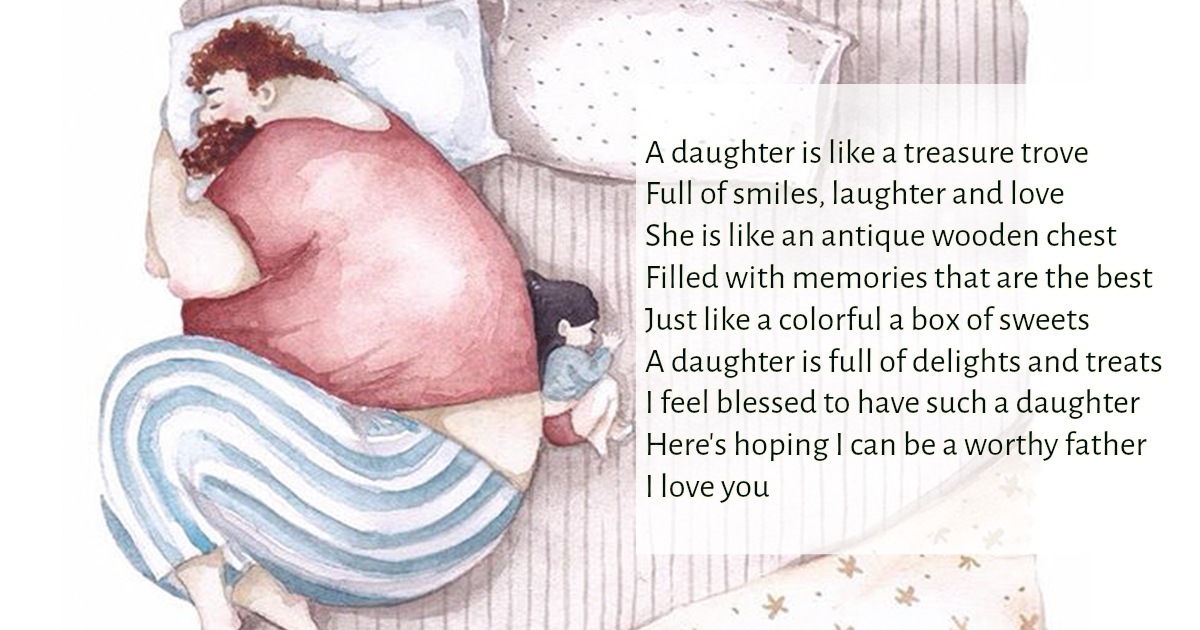 A daughter is like a treasure trove
Full of smiles, laughter and love
She is like an antique wooden chest
Filled with memories that are the best
Just like a colorful a box of sweets
A daughter is full of delights and treats
I feel blessed to have such a daughter
Here's hoping I can be a worthy father
I love you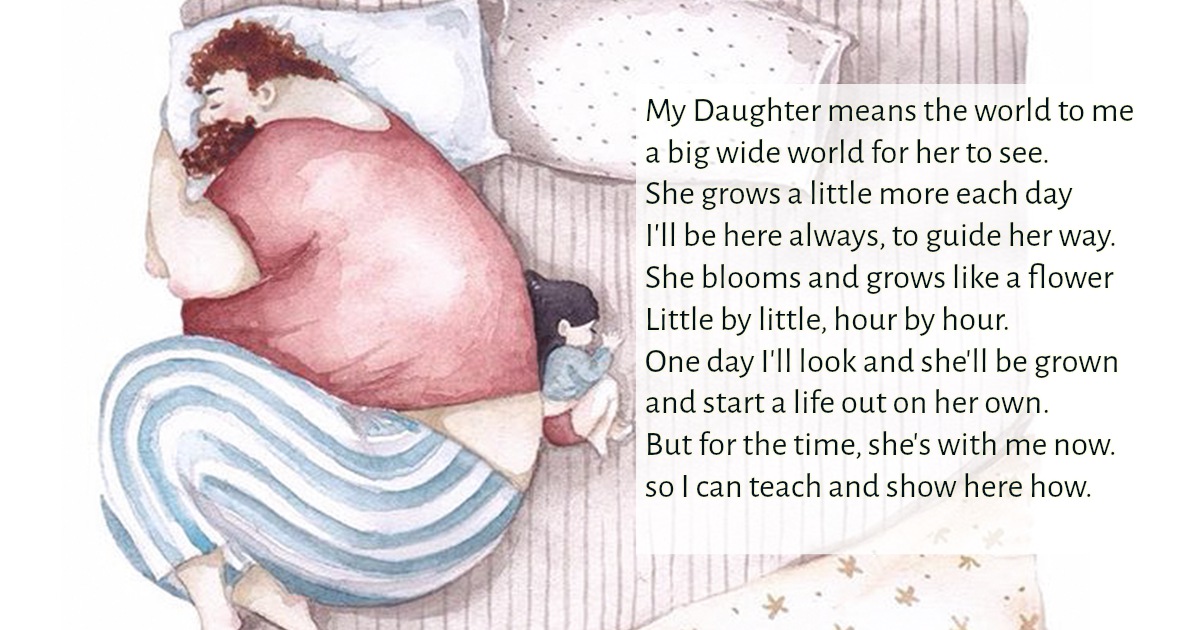 My Daughter means the world to me
a big wide world for her to see.
She grows a little more each day
I'll be here always, to guide her way.
She blooms and grows like a flower
Little by little, hour by hour.
One day I'll look and she'll be grown
and start a life out on her own.
But for the time, she's with me now.
so I can teach and show here how.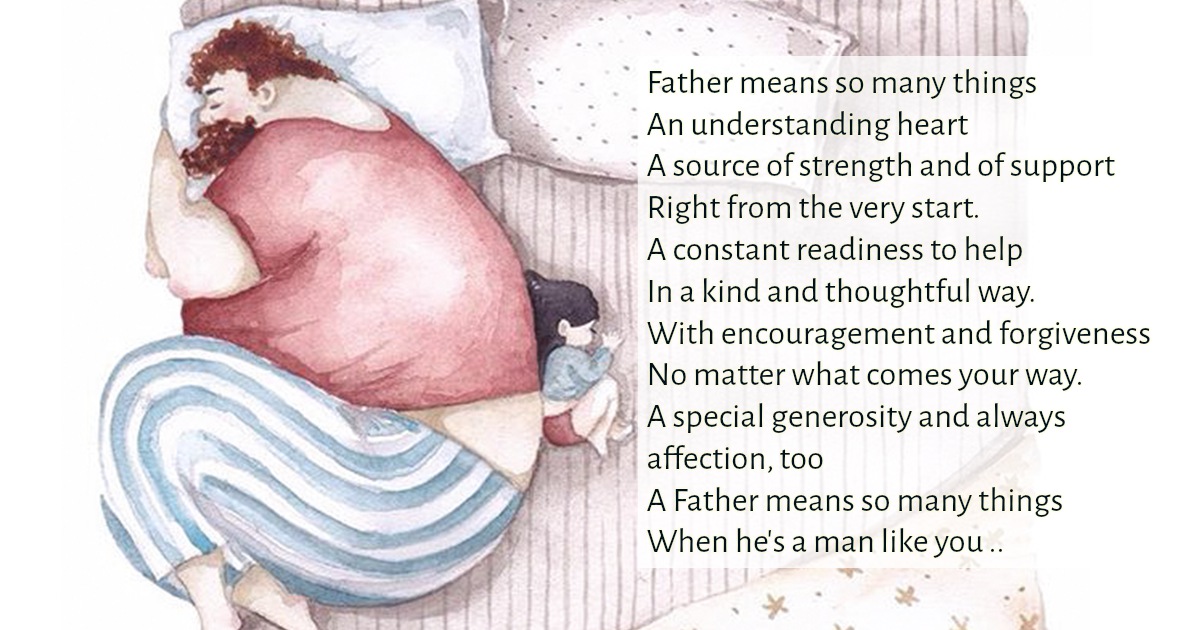 Father means so many things
An understanding heart
A source of strength and of support
Right from the very start.
A constant readiness to help
In a kind and thoughtful way.
With encouragement and forgiveness
No matter what comes your way.
A special generosity and always affection, too
A Father means so many things
When he's a man like you ..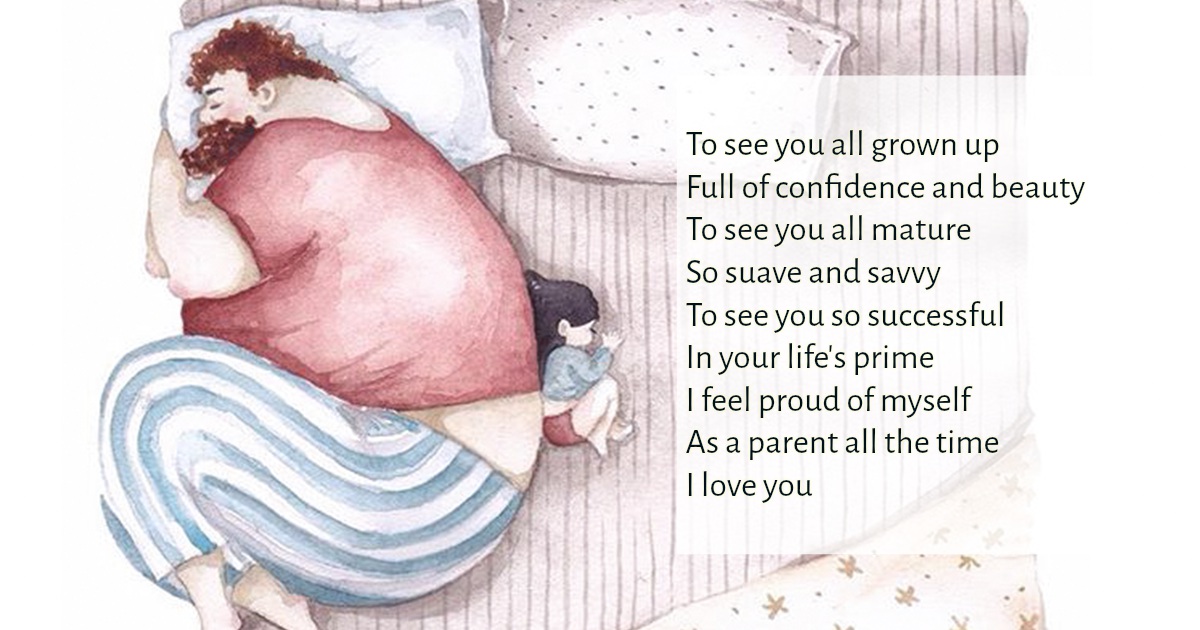 When I was a baby
you would hold me in your arms
I felt the love and tenderness
keeping me safe from harm
I would look up into your eyes
and all the love I would see
How did I get so lucky
you were the dad chosen for me
There is something special
about a father's love
Seems it was sent to me
from someplace up above
Our love is everlasting
I just wanted you to know
That you're my special hero
and I wanted to tell you so.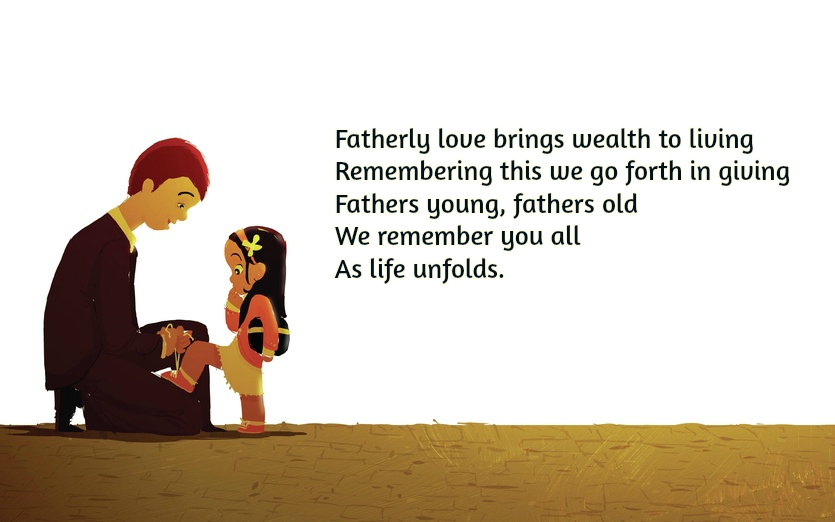 Fatherly love brings wealth to living
Remembering this we go forth in giving
Fathers young, fathers old
We remember you all
As life unfolds.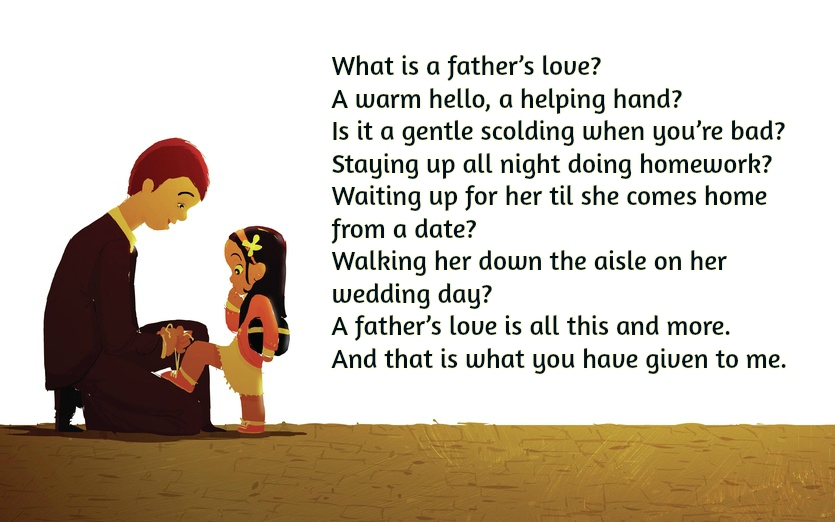 What is a father's love?
A warm hello, a helping hand?
Is it a gentle scolding when you're bad?
Staying up all night doing homework?
Waiting up for her til she comes home from a date?
Walking her down the aisle on her wedding day?
A father's love is all this and more.
And that is what you have given to me.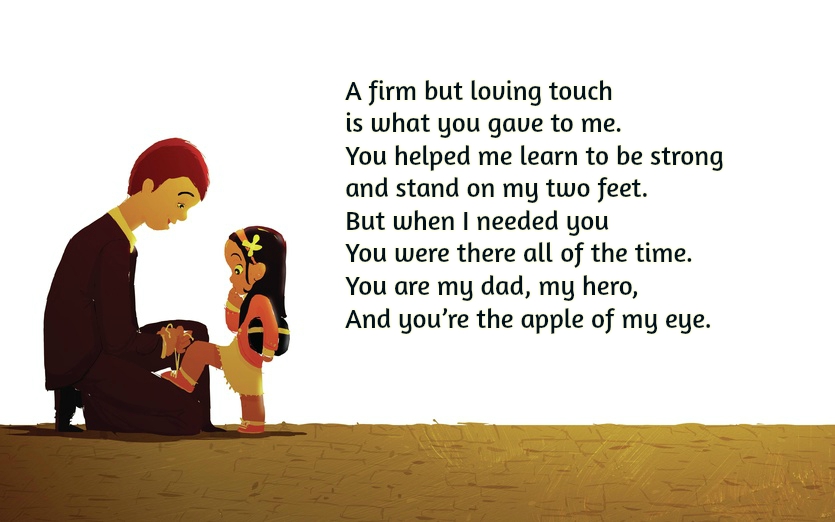 A firm but loving touch
is what you gave to me.
You helped me learn to be strong
and stand on my two feet.
But when I needed you
You were there all of the time.
You are my dad, my hero,
And you're the apple of my eye.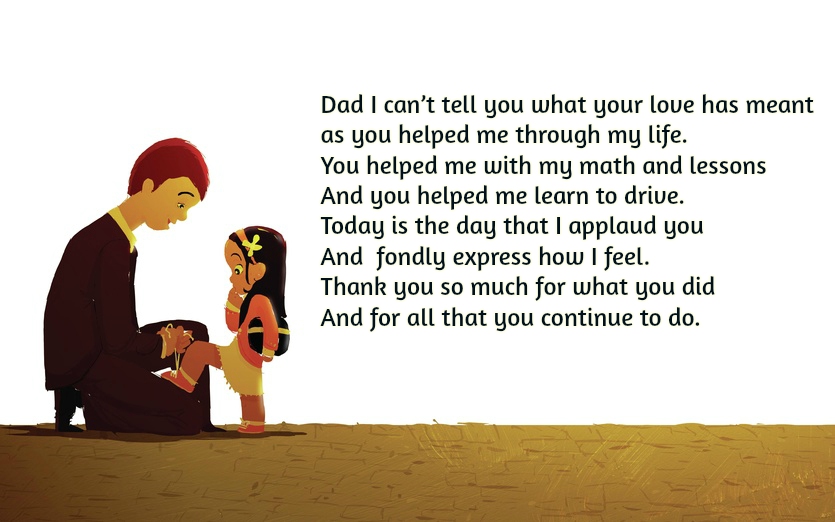 Dad I can't tell you what your love has meant
as you helped me through my life.
You helped me with my math and lessons
And you helped me learn to drive.
Today is the day that I applaud you
And  fondly express how I feel.
Thank you so much for what you did
And for all that you continue to do.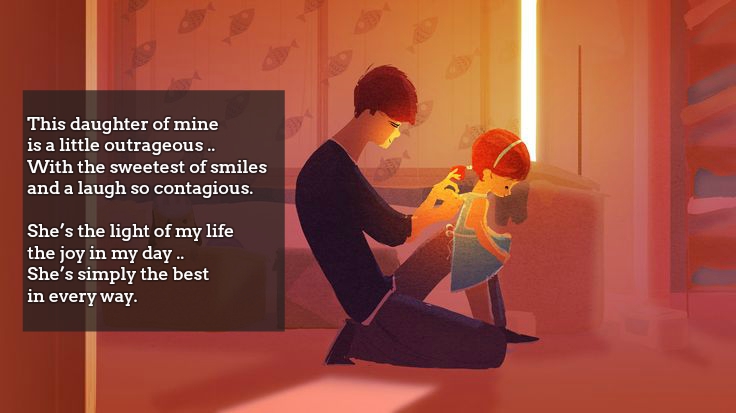 This daughter of mine
is a little outrageous ..
With the sweetest of smiles
and a laugh so contagious.
She's the light of my life
the joy in my day ..
She's simply the best
in every way.
The span from childhood to adult
may have seemed quite long, indeed ..
but to me it came swift and fast
at fleeting, breakneck speed.
A precious, adorable baby
a girl, cute as could be ..
And now you're all grown up
as you stand there before me.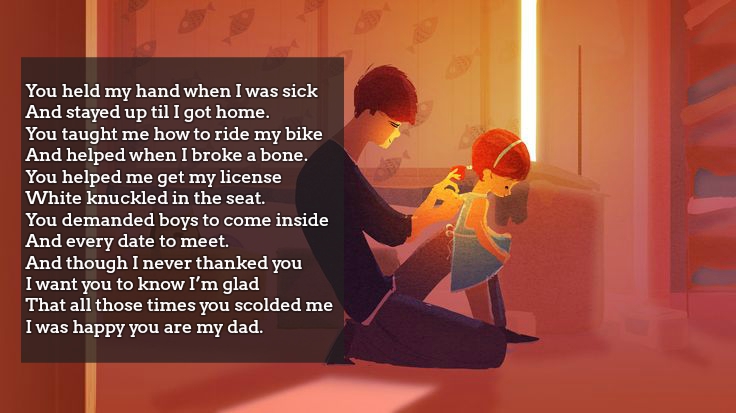 You held my hand when I was sick
And stayed up til I got home.
You taught me how to ride my bike
And helped when I broke a bone.
You helped me get my license
White knuckled in the seat.
You demanded boys to come inside
And every date to meet.
And though I never thanked you
I want you to know I'm glad
That all those times you scolded me
I was happy you are my dad.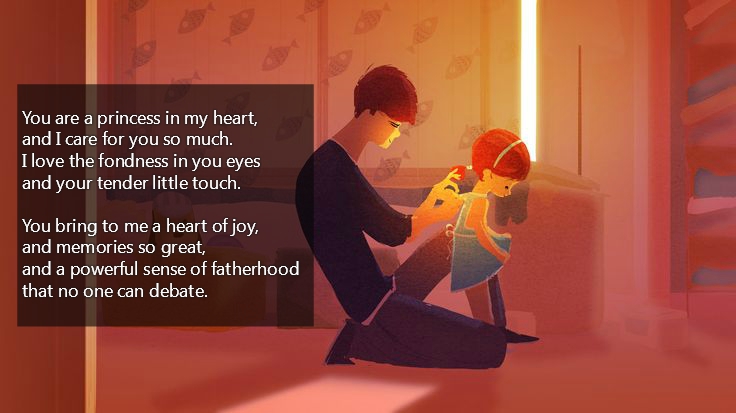 You are a princess in my heart,
and I care for you so much.
I love the fondness in you eyes
and your tender little touch.
You bring to me a heart of joy,
and memories so great,
and a powerful sense of fatherhood
that no one can debate.