Mother Daughter Poems To Cherish
Our collection of mother daughter poems: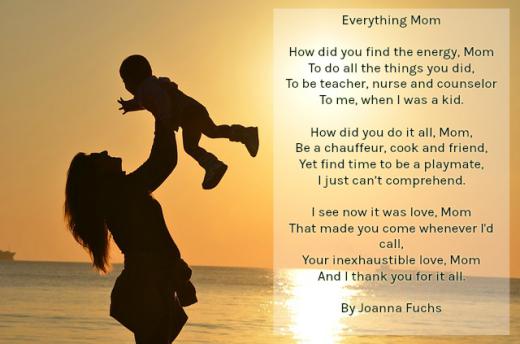 Everything Mom
How did you find the energy, Mom
To do all the things you did,
To be teacher, nurse and counselor
To me, when I was a kid.
How did you do it all, Mom,
Be a chauffeur, cook and friend,
Yet find time to be a playmate,
I just can't comprehend.
I see now it was love, Mom
That made you come whenever I'd call,
Your inexhaustible love, Mom
And I thank you for it all.
-By Joanna Fuchs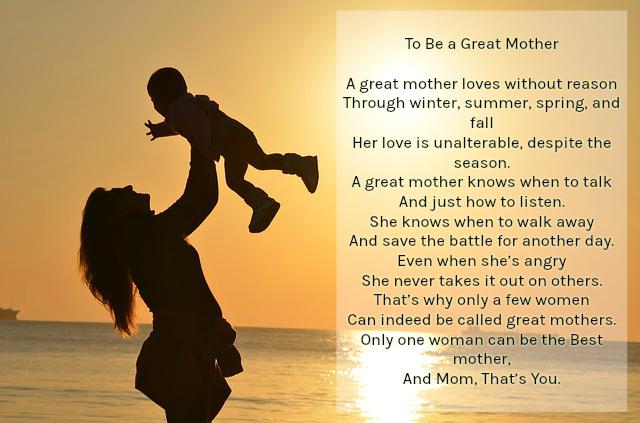 To Be a Great Mother
A great mother loves without reason
Through winter, summer, spring, and fall
Her love is unalterable, despite the season.
A great mother knows when to talk
And just how to listen.
She knows when to walk away
And save the battle for another day.
Even when she's angry
She never takes it out on others.
That's why only a few women
Can indeed be called great mothers.
Only one woman can be the Best mother,
And Mom, That's You.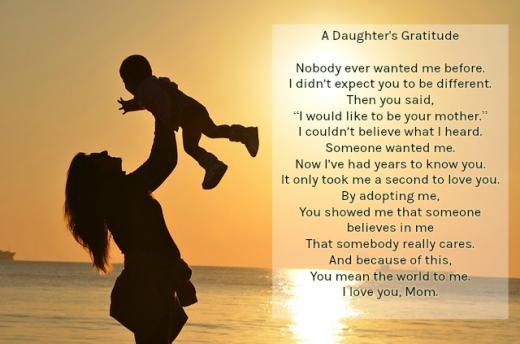 A Daughter's Gratitude
Nobody ever wanted me before.
I didn't expect you to be different.
Then you said,
"I would like to be your mother."
I couldn't believe what I heard.
Someone wanted me.
Now I've had years to know you.
It only took me a second to love you.
By adopting me,
You showed me that someone believes in me
That somebody really cares.
And because of this,
You mean the world to me.
I love you, Mom.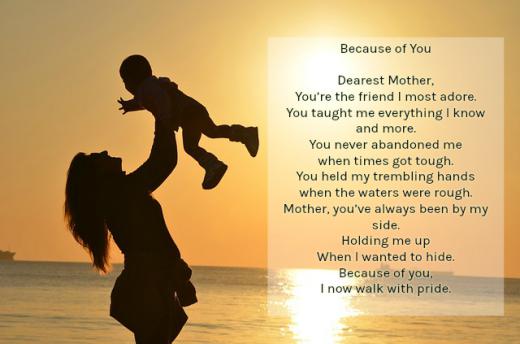 Because of You
Dearest Mother,
You're the friend I most adore.
You taught me everything I know
and more.
You never abandoned me
when times got tough.
You held my trembling hands
when the waters were rough.
Mother, you've always been by my side.
Holding me up
When I wanted to hide.
Because of you,
I now walk with pride.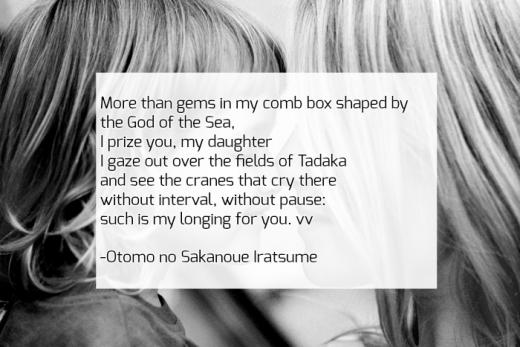 More than gems in my comb box shaped by the God of the Sea,
I prize you, my daughter
I gaze out over the fields of Tadaka
and see the cranes that cry there
without interval, without pause:
such is my longing for you.
-Otomo no Sakanoue Iratsume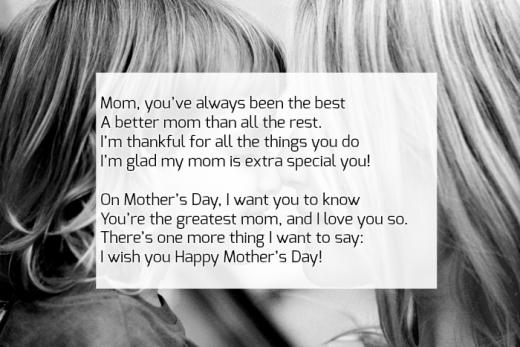 Mom, you've always been the best
A better mom than all the rest.
I'm thankful for all the things you do
I'm glad my mom is extra special you!
On Mother's Day, I want you to know
You're the greatest mom, and I love you so.
There's one more thing I want to say:
I wish you Happy Mother's Day!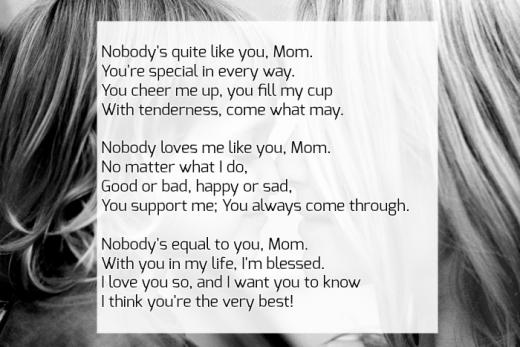 Nobody's quite like you, Mom.
You're special in every way.
You cheer me up, you fill my cup
With tenderness, come what may.
Nobody loves me like you, Mom.
No matter what I do,
Good or bad, happy or sad,
You support me; You always come through.
Nobody's equal to you, Mom.
With you in my life, I'm blessed.
I love you so, and I want you to know
I think you're the very best!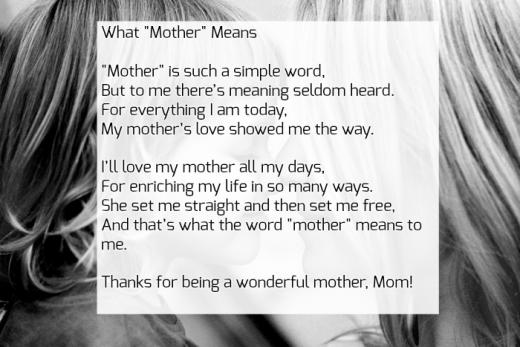 What "Mother" Means
"Mother" is such a simple word,
But to me there's meaning seldom heard.
For everything I am today,
My mother's love showed me the way.
I'll love my mother all my days,
For enriching my life in so many ways.
She set me straight and then set me free,
And that's what the word "mother" means to me.
Thanks for being a wonderful mother, Mom!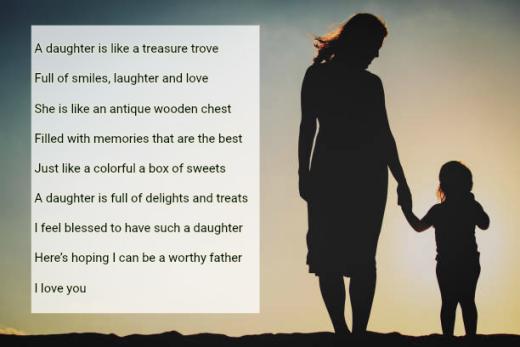 A daughter is like a treasure trove
Full of smiles, laughter and love
She is like an antique wooden chest
Filled with memories that are the best
Just like a colorful a box of sweets
A daughter is full of delights and treats
I feel blessed to have such a daughter
Here's hoping I can be a worthy father
I love you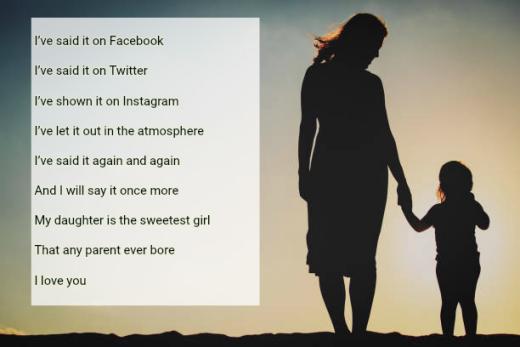 I've said it on Facebook
I've said it on Twitter
I've shown it on Instagram
I've let it out in the atmosphere
I've said it again and again
And I will say it once more
My daughter is the sweetest girl
That any parent ever bore
I love you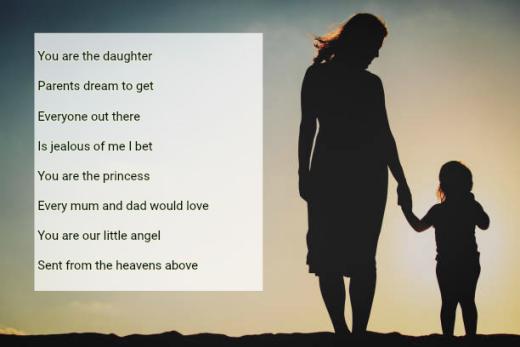 You are the daughter
Parents dream to get
Everyone out there
Is jealous of me I bet
You are the princess
Every mum and dad would love
You are our little angel
Sent from the heavens above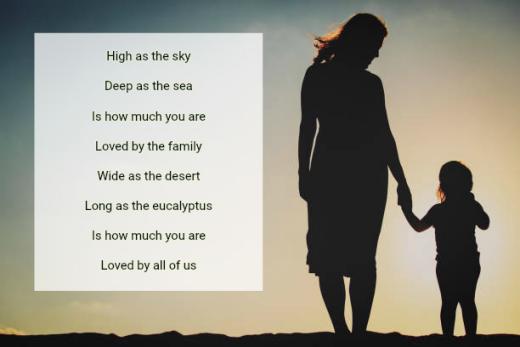 High as the sky
Deep as the sea
Is how much you are
Loved by the family
Wide as the desert
Long as the eucalyptus
Is how much you are
Loved by all of us
About Mother Daughter Poems:
A mother and daughter bond is very special yet sometimes very tough. As the famous quote goes, 'It takes one to know one', mothers and daughters make the best pair in the world, but this bond needs constant grooming like a flower in the wild that needs to be taken care of or else it will wither. Mothers are once daughters, and being able to passed such stage in life gives them the wisdom that is needed by their own offspring.
However, teenage girls nowadays are afraid to talk to their mothers and open up their problems because of their fear of getting judge. Somehow, this is a concept that has been thought as a normal stage in a teenager's life— like assuming that she can handle her issues on her own or her friends give the best advice than her own mother. With this misconception, a mother and daughter's bond becomes very challenging. But all of these are just trials, and as soon as you let go pride and anger, you will soon realize that mothers are the best confidantes in the world. The path may not be always smooth, but in the end it's all worth it. And to help you realize the importance of a mother and daughter relationship, here are some poems that will make you smile.