American Football Jokes
We hope you enjoy our collection of American Football Jokes: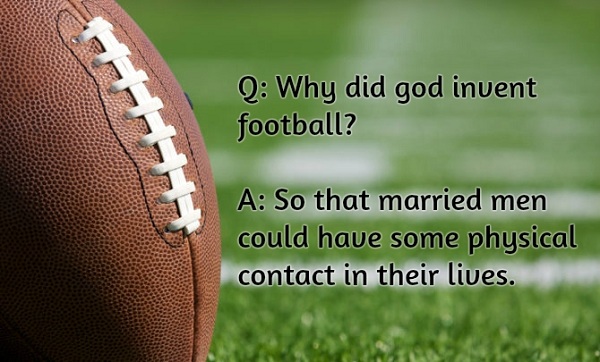 Q: Why did god invent football?
A: So that married men have some physical contact in their lives.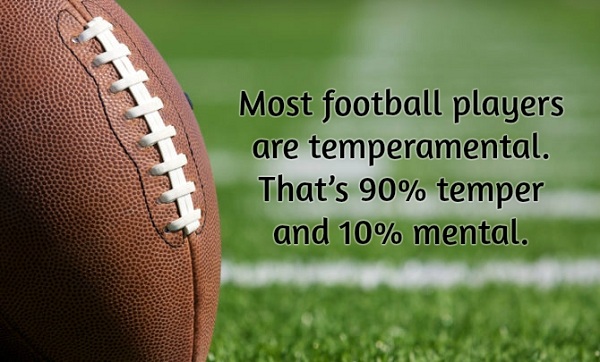 Most football players are temperamental. That's 90 % temper and 10 % mental.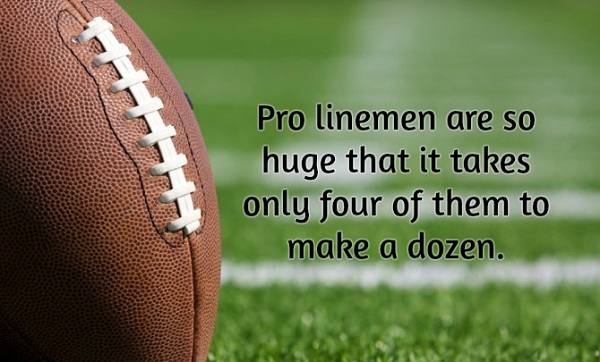 Pro linemen are so huge that it takes only four of them to make a dozen.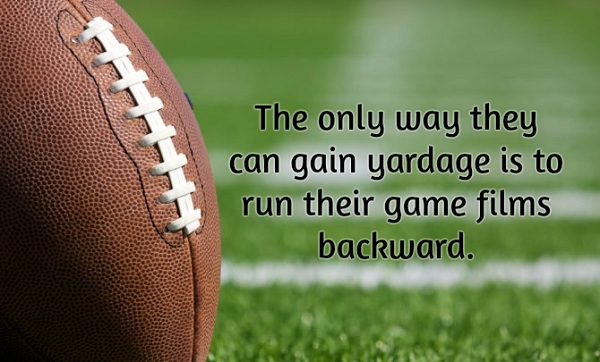 The only way they can gain yardage is to run their game films backward.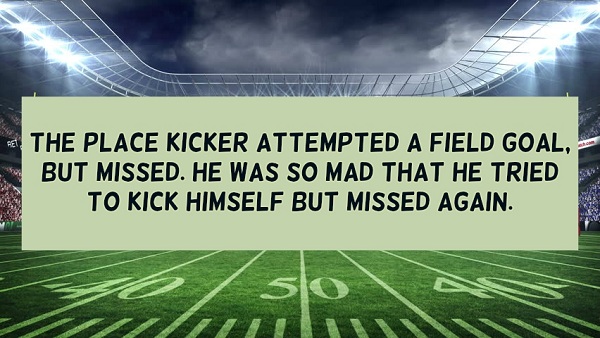 The place kicker attempted a field goal, but missed. He was so mad that he tried to kick himself but missed again.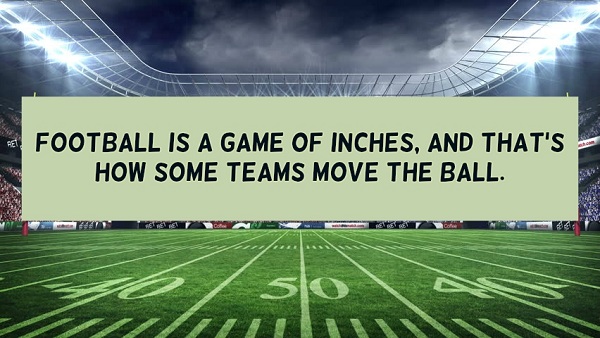 Football is a game of inches, and that's how some teams move the ball.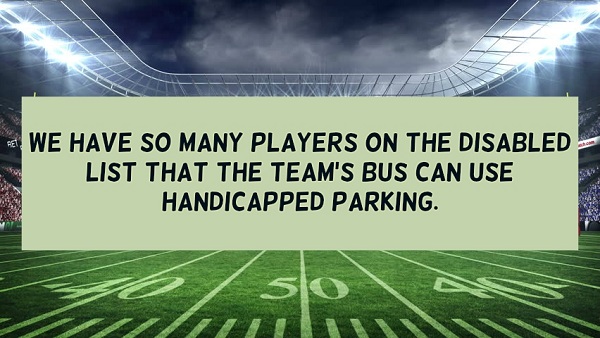 We have so many players on the disabled list that the team's bus can use handicapped parking.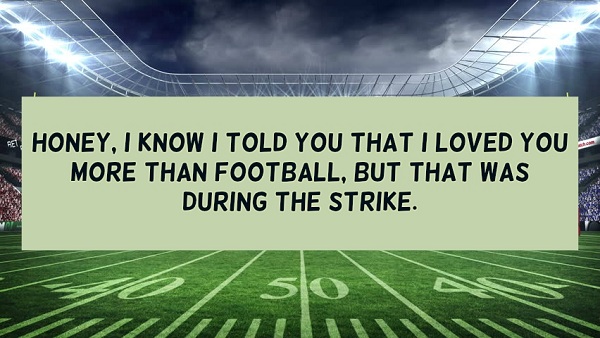 Honey, I know I told you that I loved you more than football, but that was during the strike.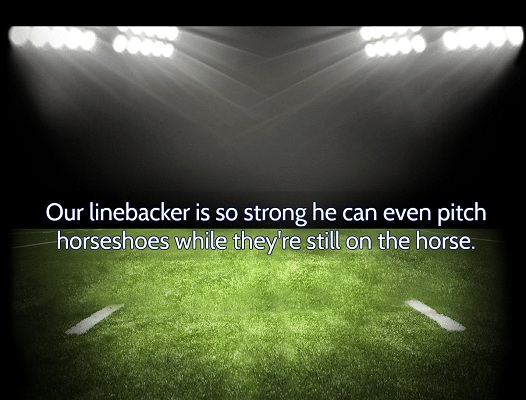 Our linebacker is so strong he can even pitch horseshoes while they're on the horse.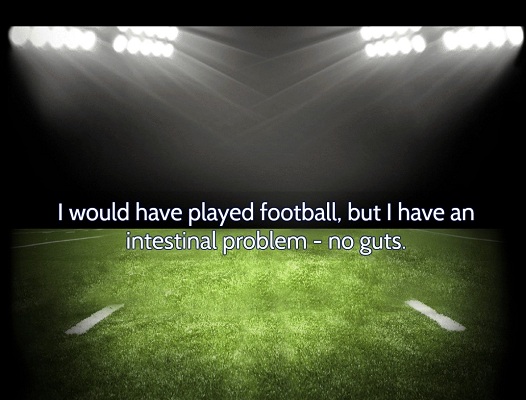 I would have played football, but I have an intestinal problems – no guts.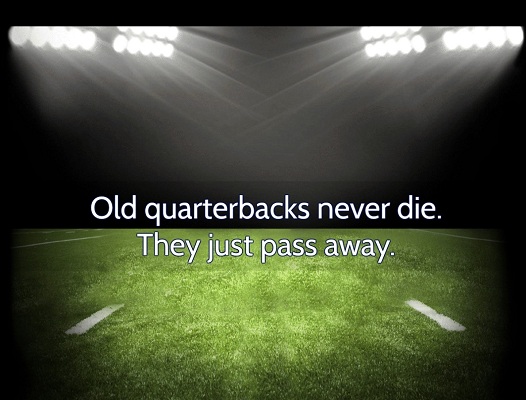 Old quarterbacks never die. They just pass away.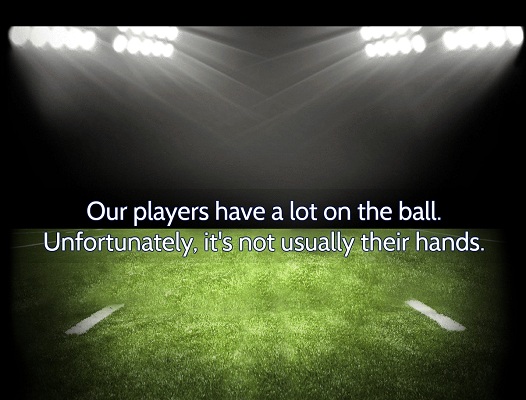 Our players have a lot on the ball. Unfortunately, it's not usually their hands.
About American Football Jokes:
For many, football isn't just some kind of sports. It is part of a country's culture that gathers everyone into a meaning celebration. This global game is a timeless sport that will never falter. Whether you are watching on your television screens or in some major stadiums, the intensity is still the same. Fans would outright do everything just to witness their favorite players play in action and create another historical goal. Unlike other sports, football exudes a breathtaking passion and greatness that can be seen across the world. The football rivalry has continued for ages, which makes the game more intriguing and interesting.
And two of the biggest American traditions associated with football games are tailgating and Thanksgiving. A stadium tailgate under the scorching heat or freezing cold is definitely a spectacular scene. What's not to like with sharing football thoughts with your fellow fanatics while munching some grilled treats? The Thanksgiving football, on the other hand, is another anticipated celebration to pump up the football craze. And before we forget, the most awaited of them all is the Super Bowl, which is dubbed as the game with no tomorrow. This pretty big event makes football bigger, brighter and better (not to mention, a fun filled gathering graced with some of the leading celebrities and artists!).