About Our I'm Sorry Poems:
No one is perfect, but the person who takes up the guilt with a kind heart is close to being perfect. Saying sorry, sometimes, is very difficult. It takes a strong and mature person to own up his mistakes or even the mistakes of others. The power of apology is not an overnight skill, it needs a lot of practice. But when one knows how to admit his faults, it can lead to forgiveness and eventually saving a relationship. Knowing how to apologize is very vital and beneficial. It smooths out any conflict and makes someone a better person. In a relationship, disagreements are natural but it can really take a toll in your own lives. It can lead to stress that will affect both parties. But when both of you are mature enough to be humble and say sorry, it will make your lives easier. The art of apologizing is tough yet very satisfying. A person who apologizes is more free and fulfilled than those who hold grudges and hate. And for the person who receives the apology, it mends the broken hearts and restores the stained dignity.
Do not let pride, anger and hurt transform you into a monster, instead be the the better person and know how to ask for forgiveness through these I'm Sorry Poems: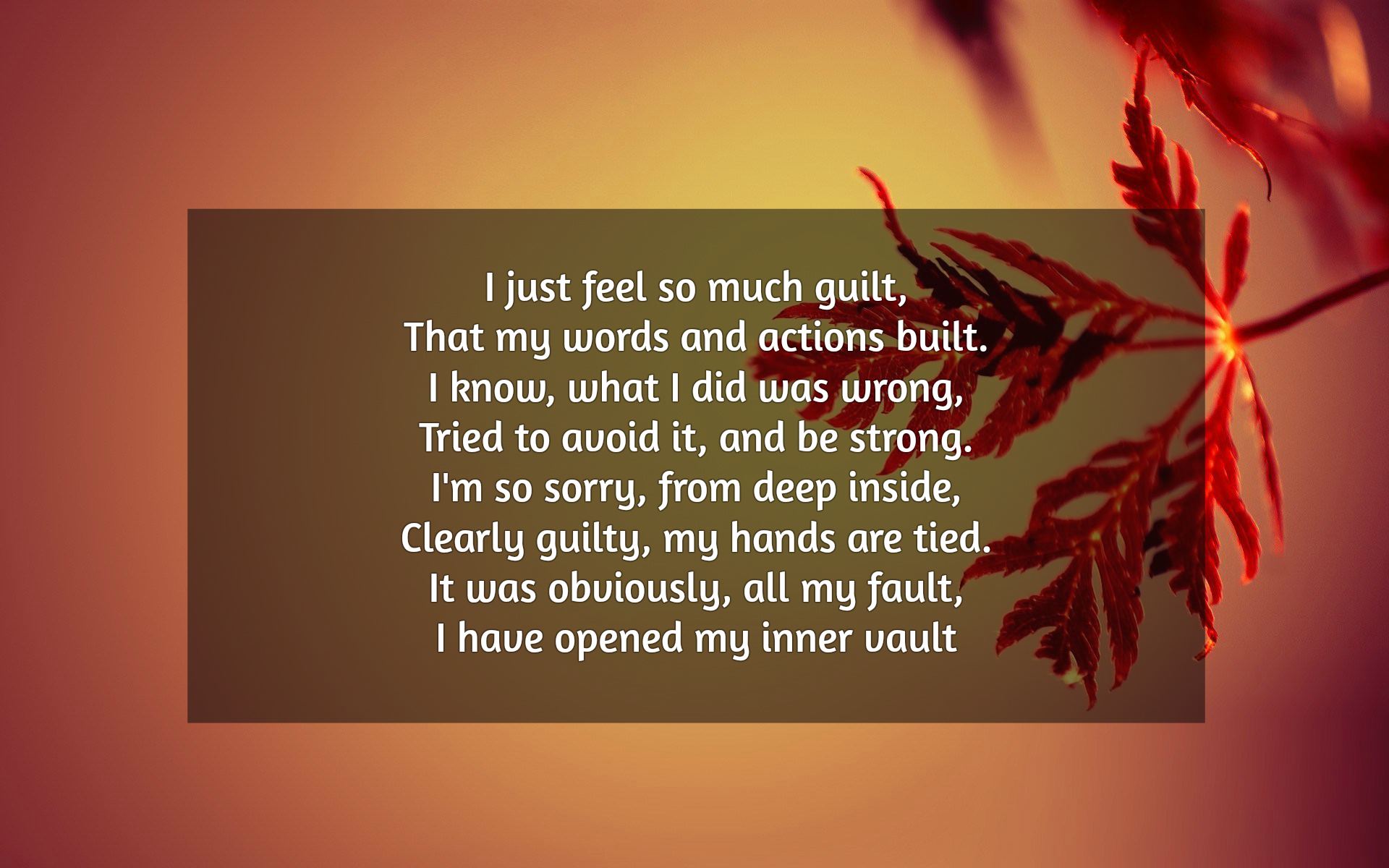 I just feel so much guilt,
That my words and actions built.
I know, what I did was wrong,
Tried to avoid it, and be strong.
I'm so sorry, from deep inside,
Clearly guilty, my hands are tied.
It was obviously, all my fault,
I have opened my inner vault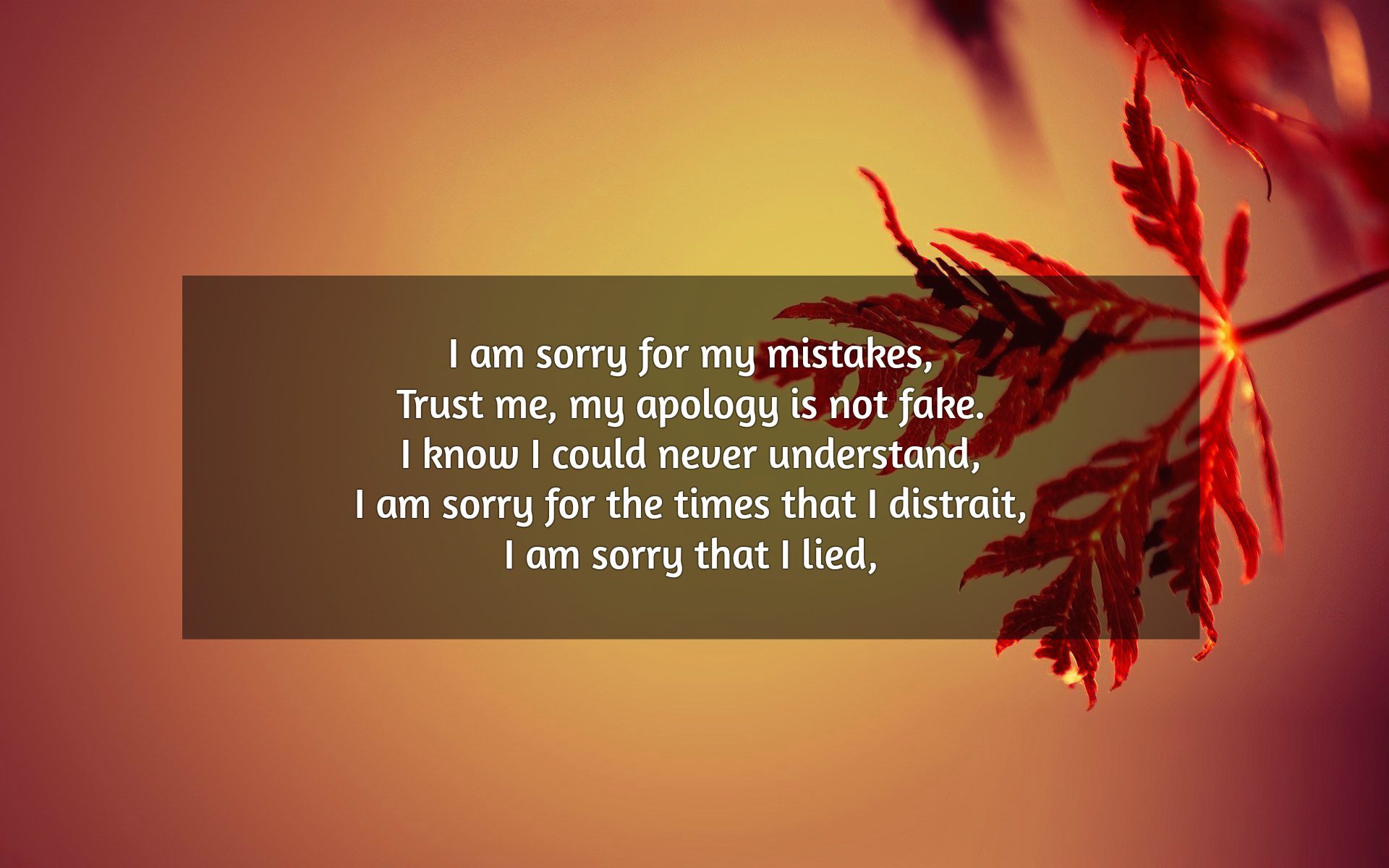 I am sorry for my mistakes,
Trust me, my apology is not fake.
I know I could never understand,
I am sorry for the times that I distrait,
I am sorry that I lied,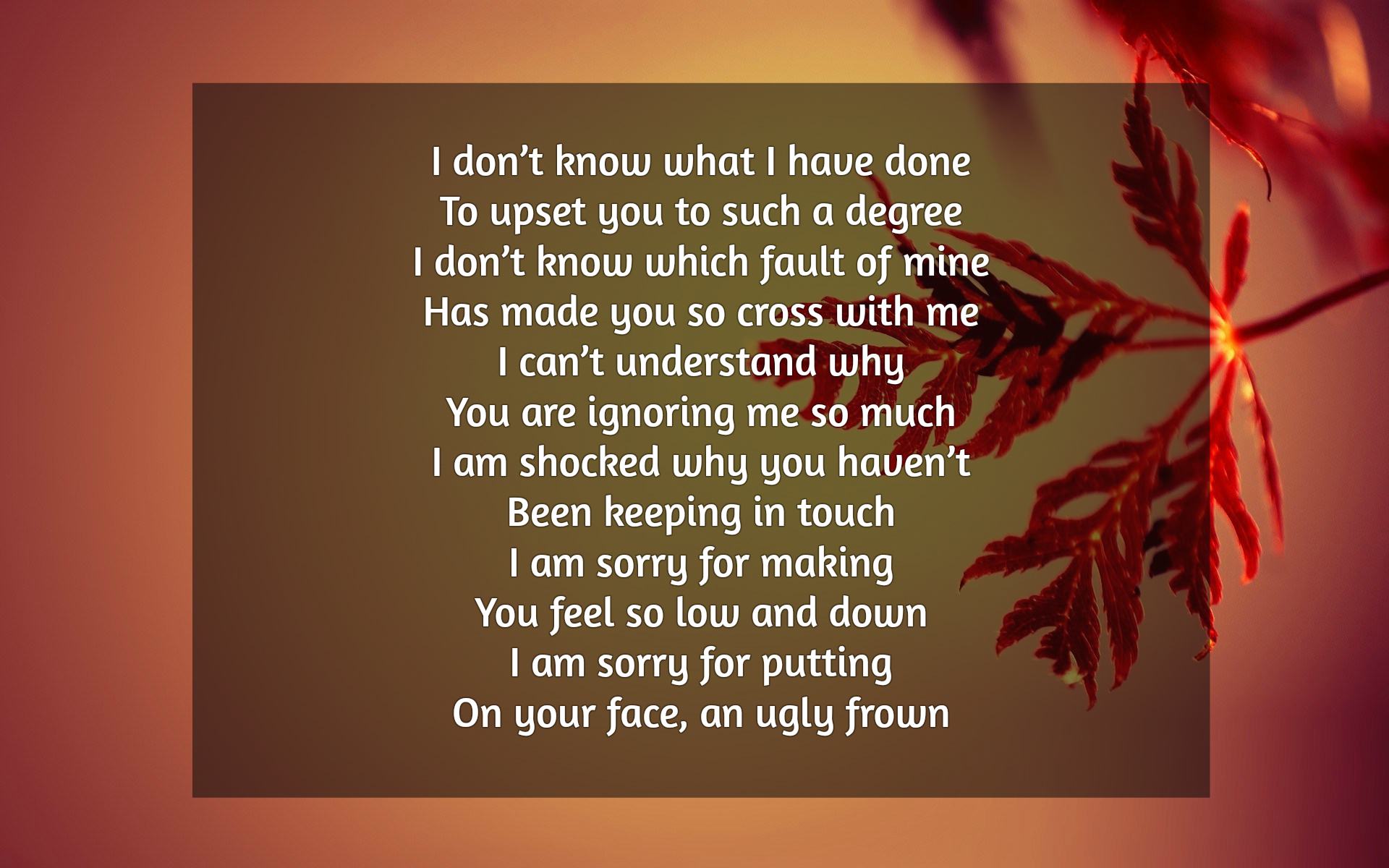 I don't know what I have done
To upset you to such a degree
I don't know which fault of mine
Has made you so cross with me
I can't understand why
You are ignoring me so much
I am shocked why you haven't
Been keeping in touch
I am sorry for making
You feel so low and down
I am sorry for putting
On your face, an ugly frown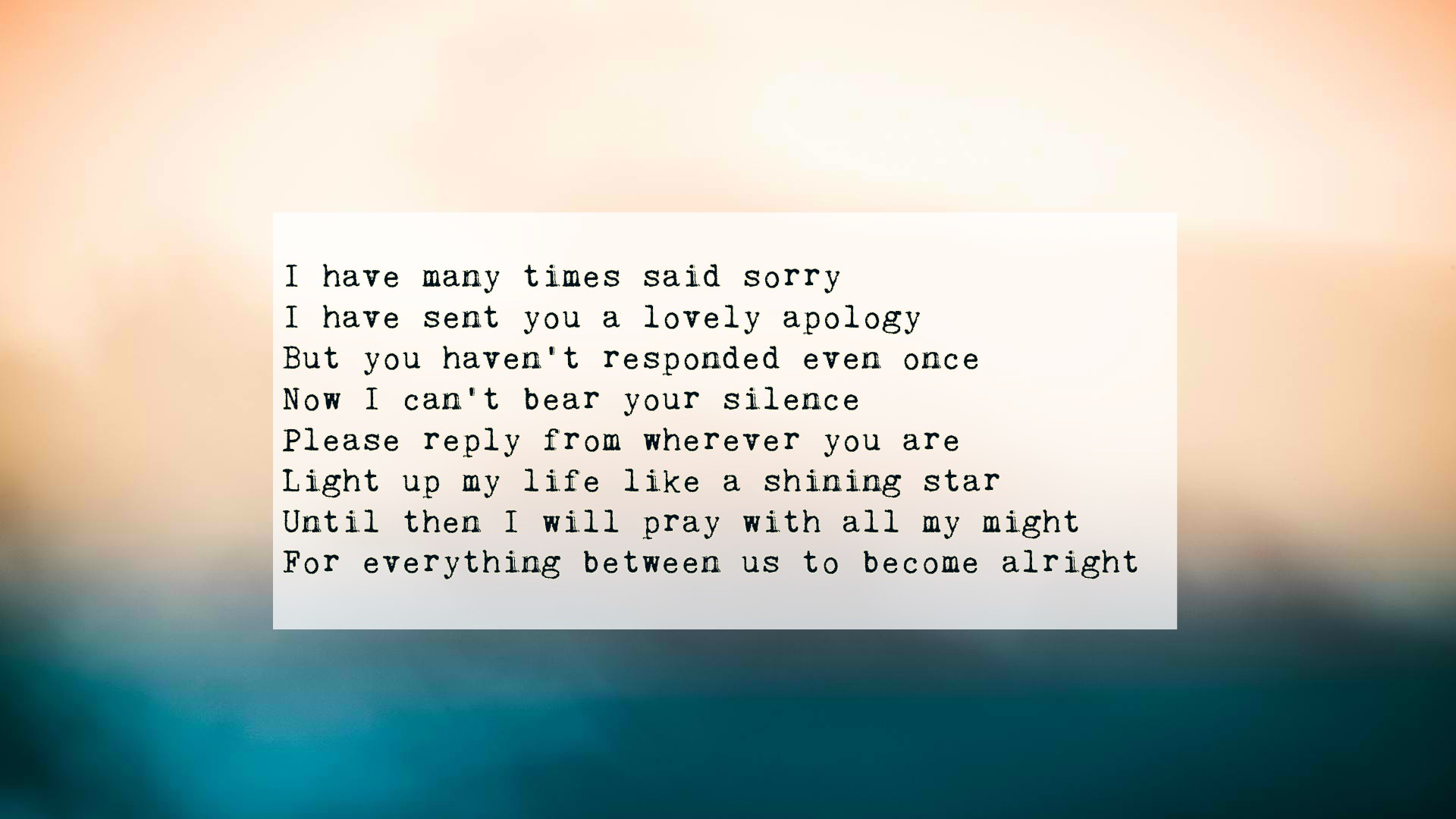 I have many times said sorry
I have sent you a lovely apology
But you haven't responded even once
Now I can't bear your silence
Please reply from wherever you are
Light up my life like a shining star
Until then I will pray with all my might
For everything between us to become alright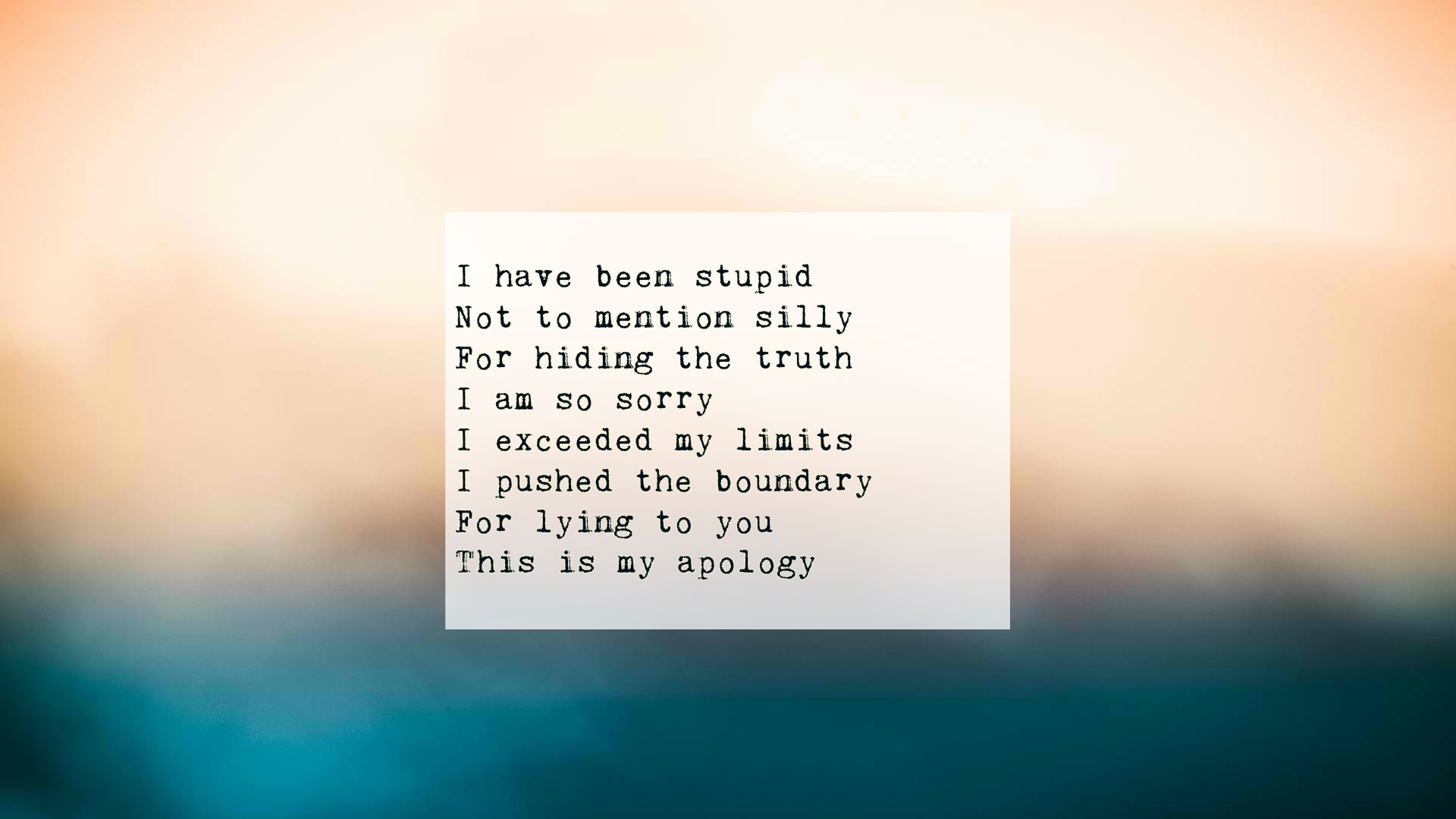 I have been stupid
Not to mention silly
For hiding the truth
I am so sorry
I exceeded my limits
I pushed the boundary
For lying to you
This is my apology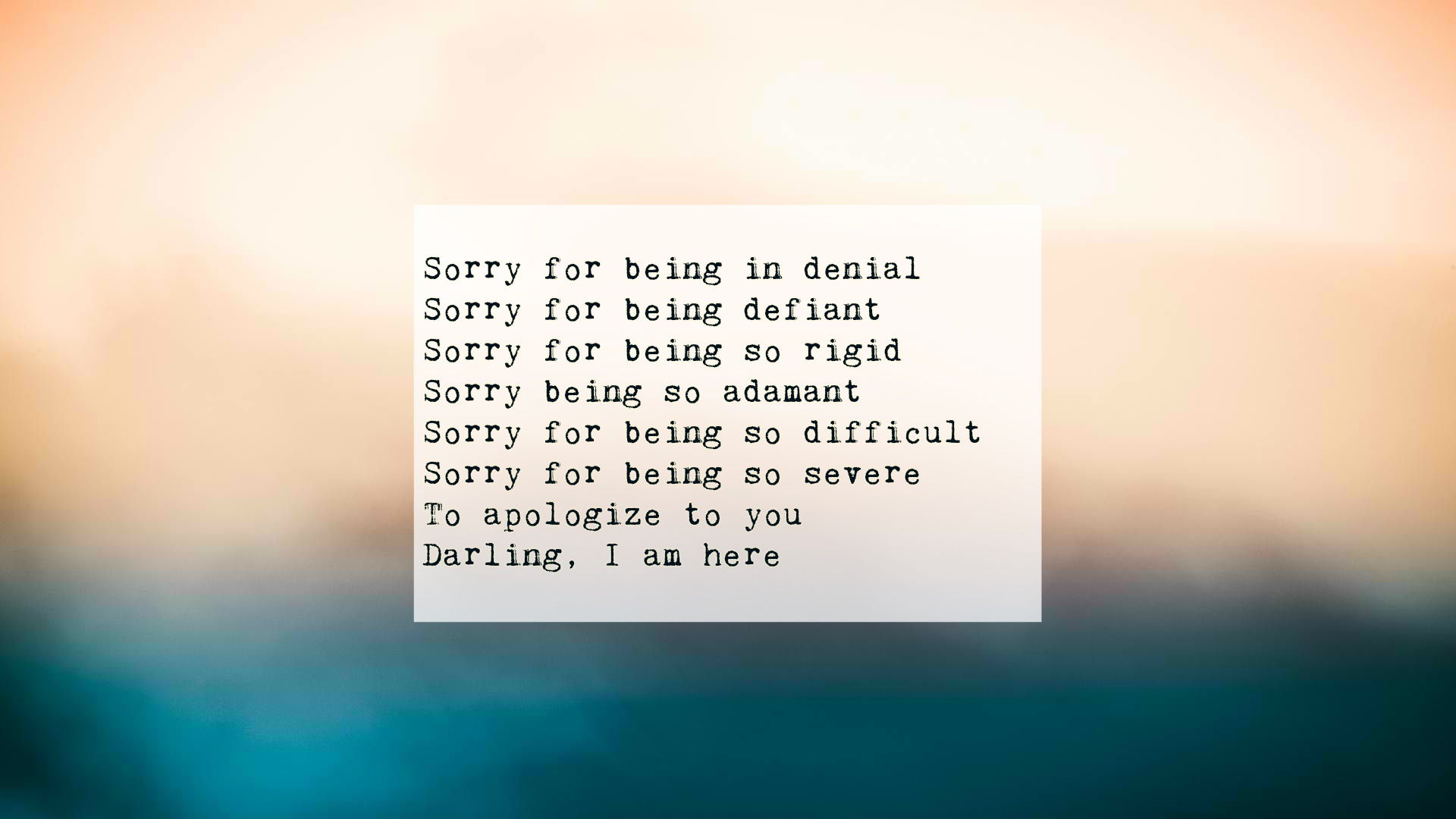 Sorry for being in denial
Sorry for being defiant
Sorry for being so rigid
Sorry being so adamant
Sorry for being so difficult
Sorry for being so severe
To apologize to you
Darling, I am here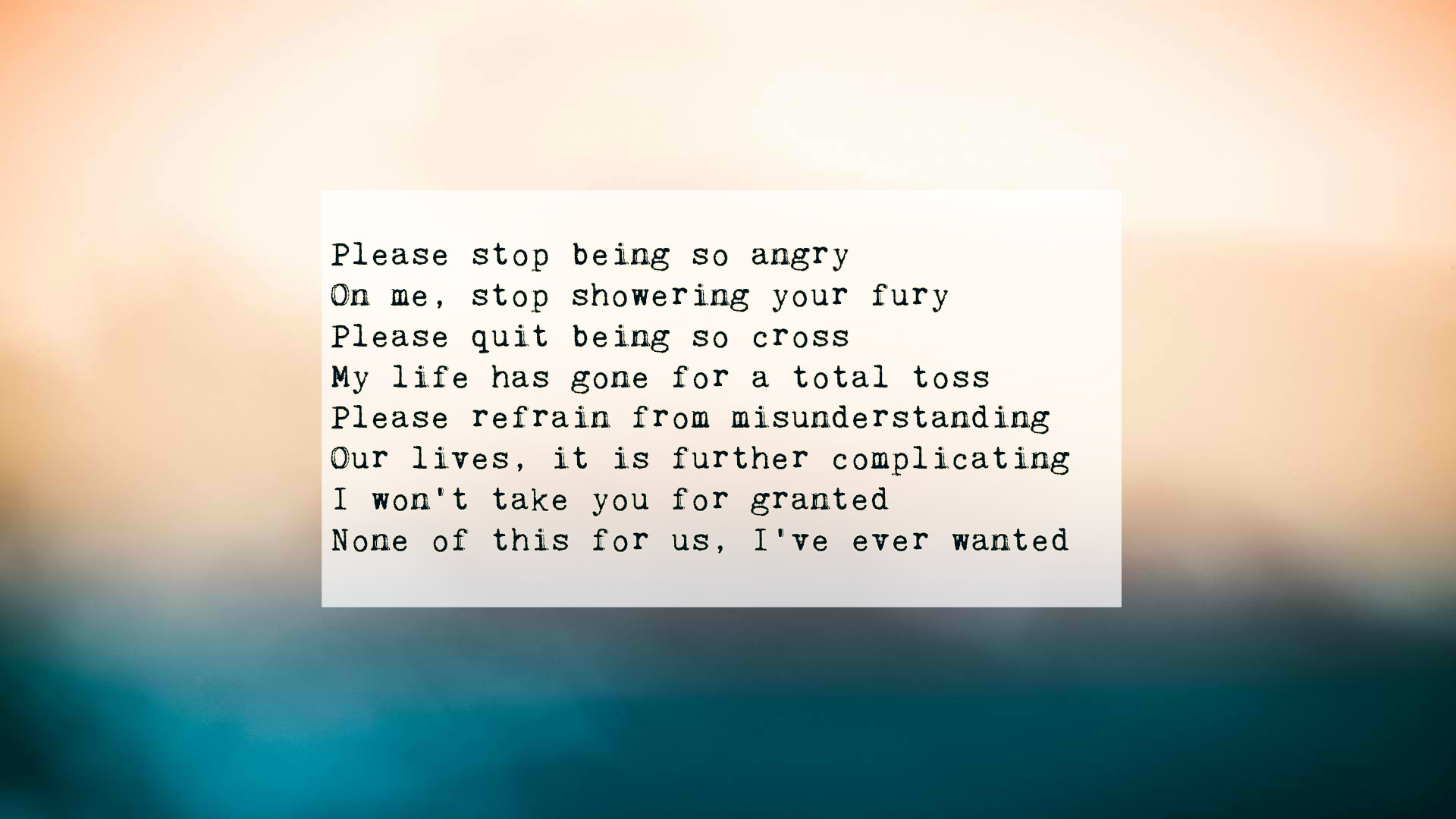 Please stop being so angry
On me, stop showering your fury
Please quit being so cross
My life has gone for a total toss
Please refrain from misunderstanding
Our lives, it is further complicating
I won't take you for granted
None of this for us, I've ever wanted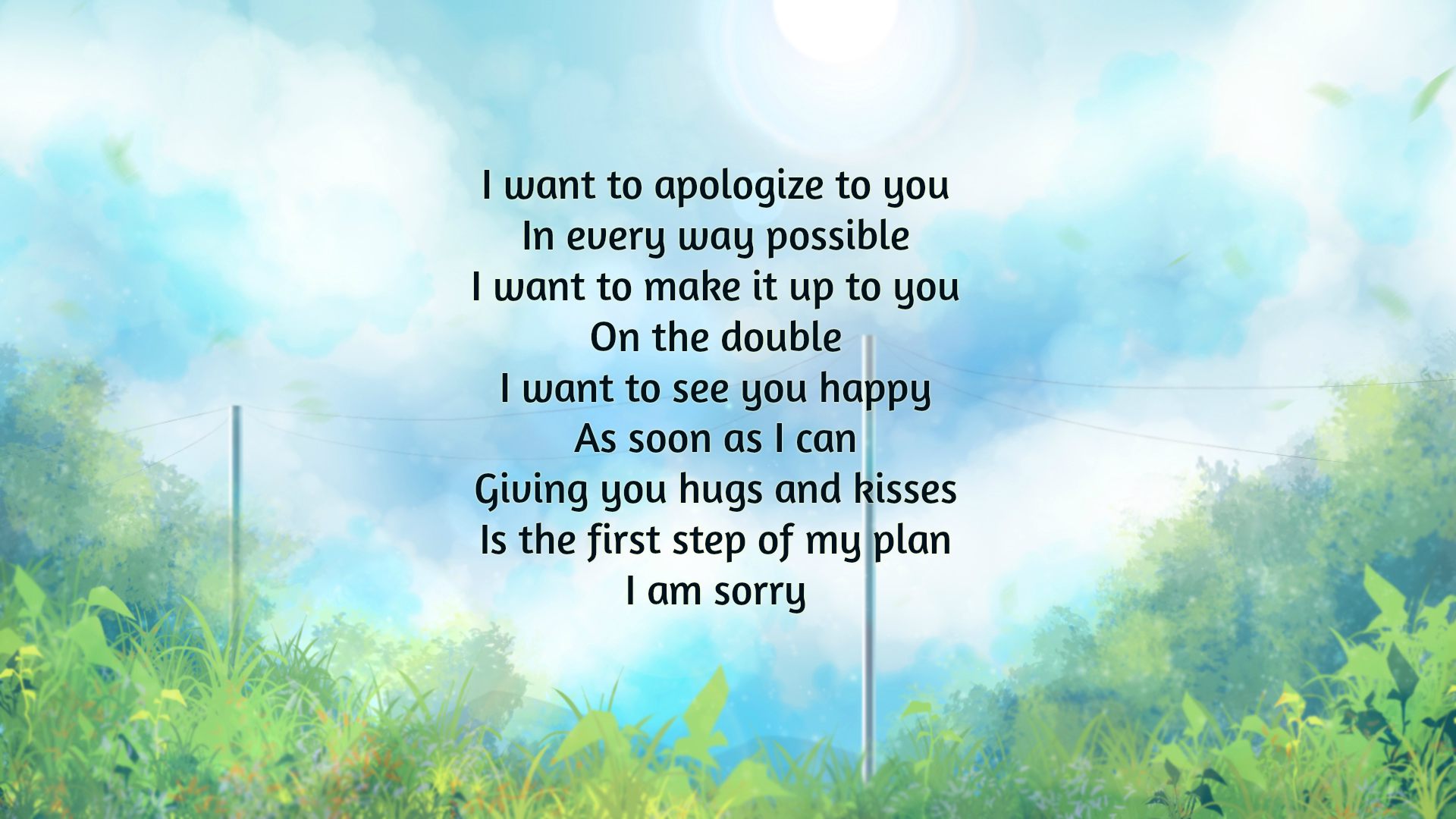 I want to apologize to you
In every way possible
I want to make it up to you
On the double
I want to see you happy
As soon as I can
Giving you hugs and kisses
Is the first step of my plan
I am sorry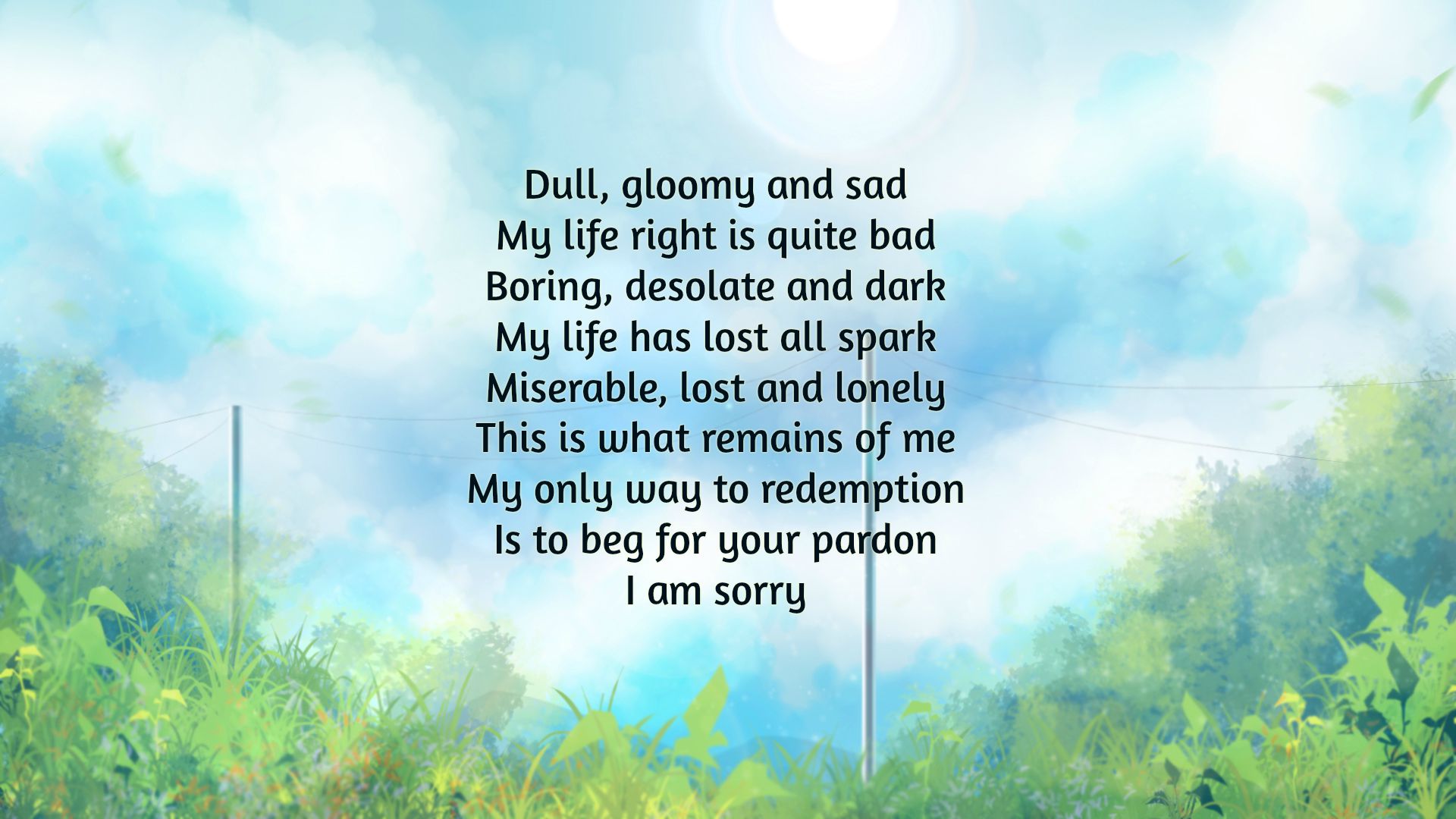 Dull, gloomy and sad
My life right is quite bad
Boring, desolate and dark
My life has lost all spark
Miserable, lost and lonely
This is what remains of me
My only way to redemption
Is to beg for your pardon
I am sorry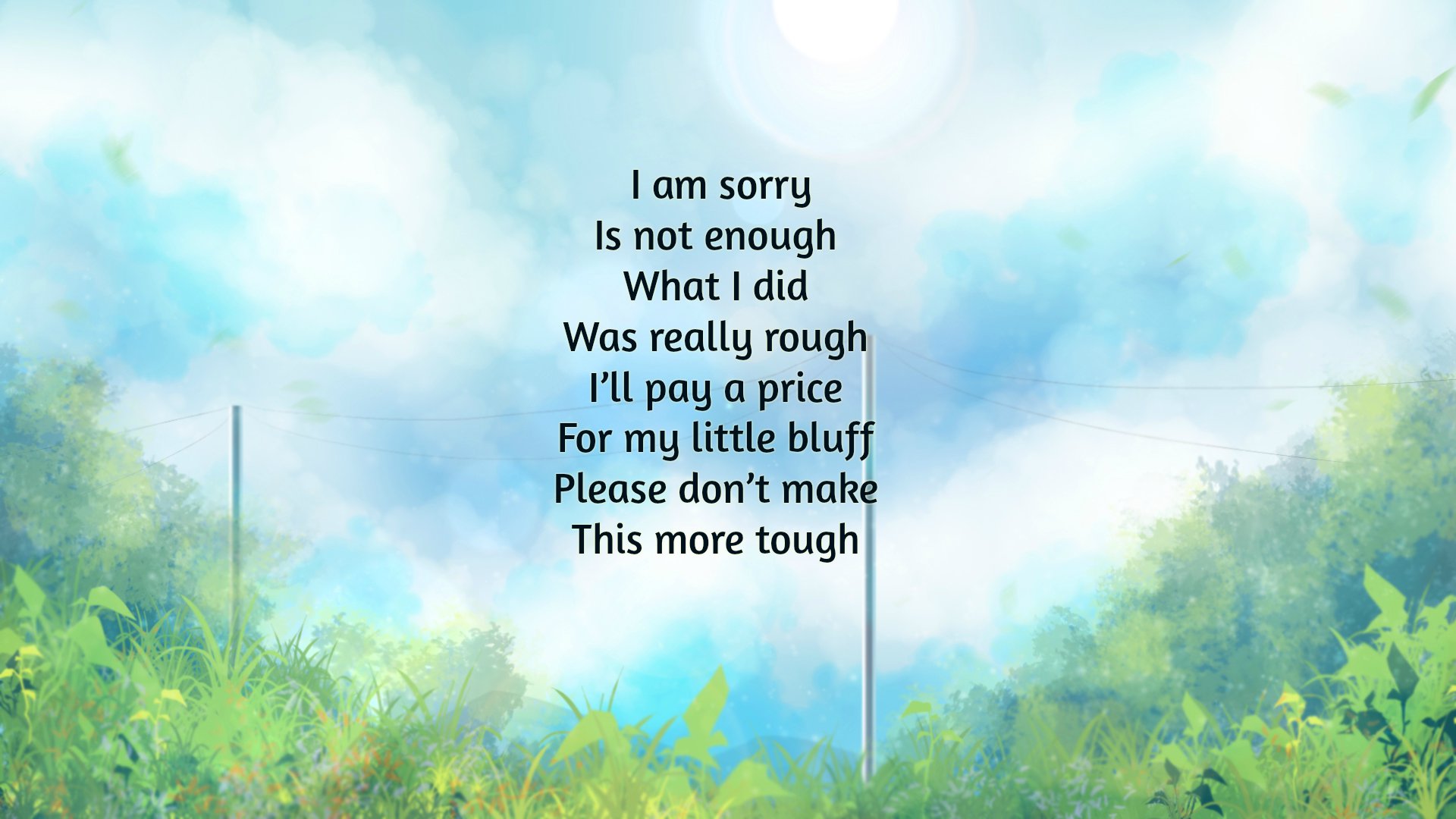 I am sorry
Is not enough
What I did
Was really rough
I'll pay a price
For my little bluff
Please don't make
This more tough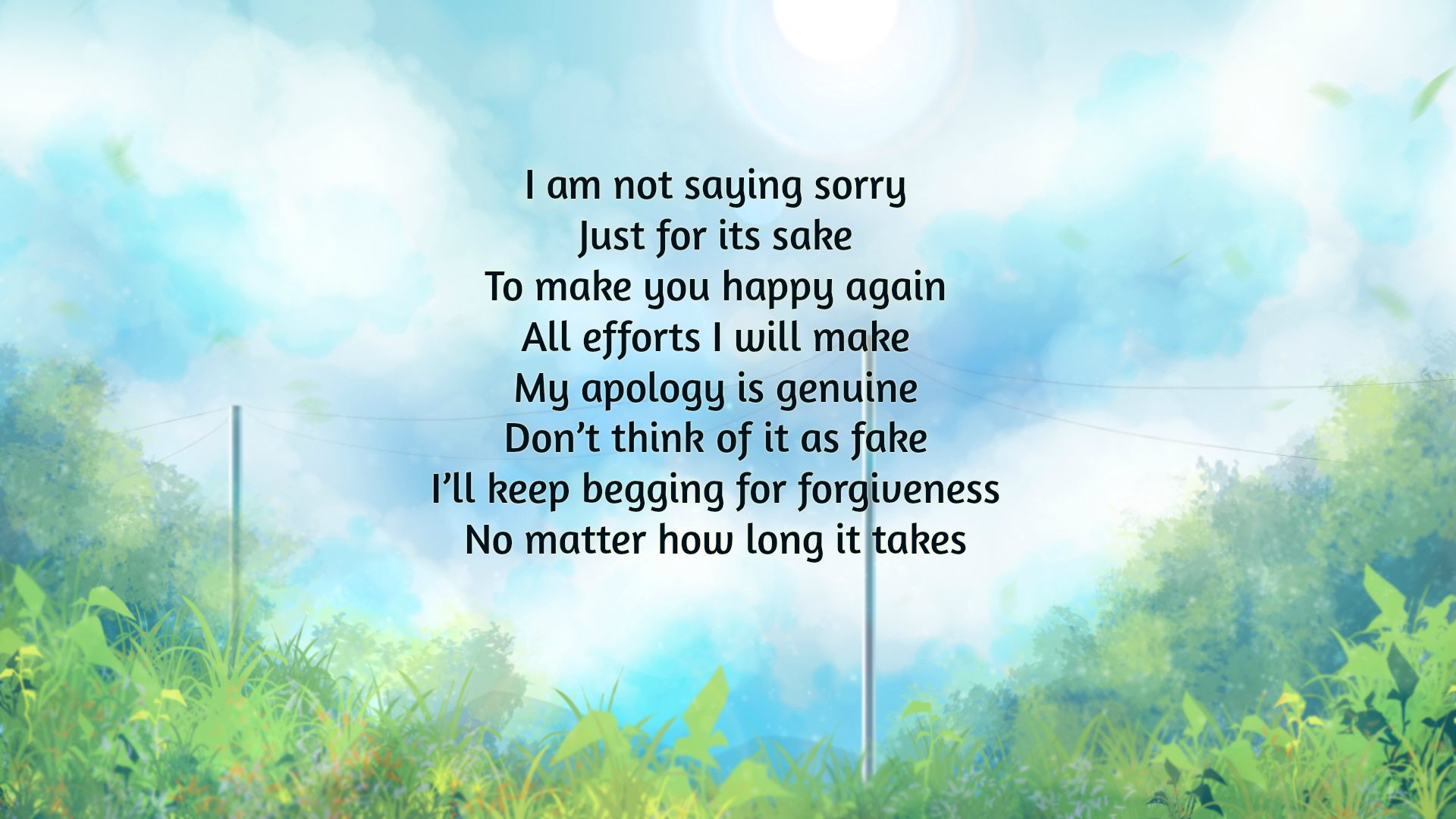 I am not saying sorry
Just for its sake
To make you happy again
All efforts I will make
My apology is genuine
Don't think of it as fake
I'll keep begging for forgiveness
No matter how long it takes