Having a sister is magical and sweet. Several studies show that a sibling bond is one of the most profound and interesting bonds as it revolves around same genes, shared upbringing and joint secrets. Sisters share a lot of memories together, from their first walks to first crushes. They talk about almost everything under the sun and late night conversations for them are the best. However, this could be pretty tough and there will be a lot of bumps along the way. Meanness, rivalry, taunting are normal. Trials may be difficult, but these are inspiring factors that shape their lives in the long run.
The sister bond is downright unique and if you have one, don't let time and space ruin it. There are heaps of sisterly activities that will strengthen your relationship— shopping, watching movies  enjoying a dinner date, attending a musical festival and a lot more! And if time will come that your sister will get married, let her go and be happy for her. Of course, it's not easy but it's part of life. On her wedding day, give her the most memorable and poignant speech that she and everyone around her will never forget.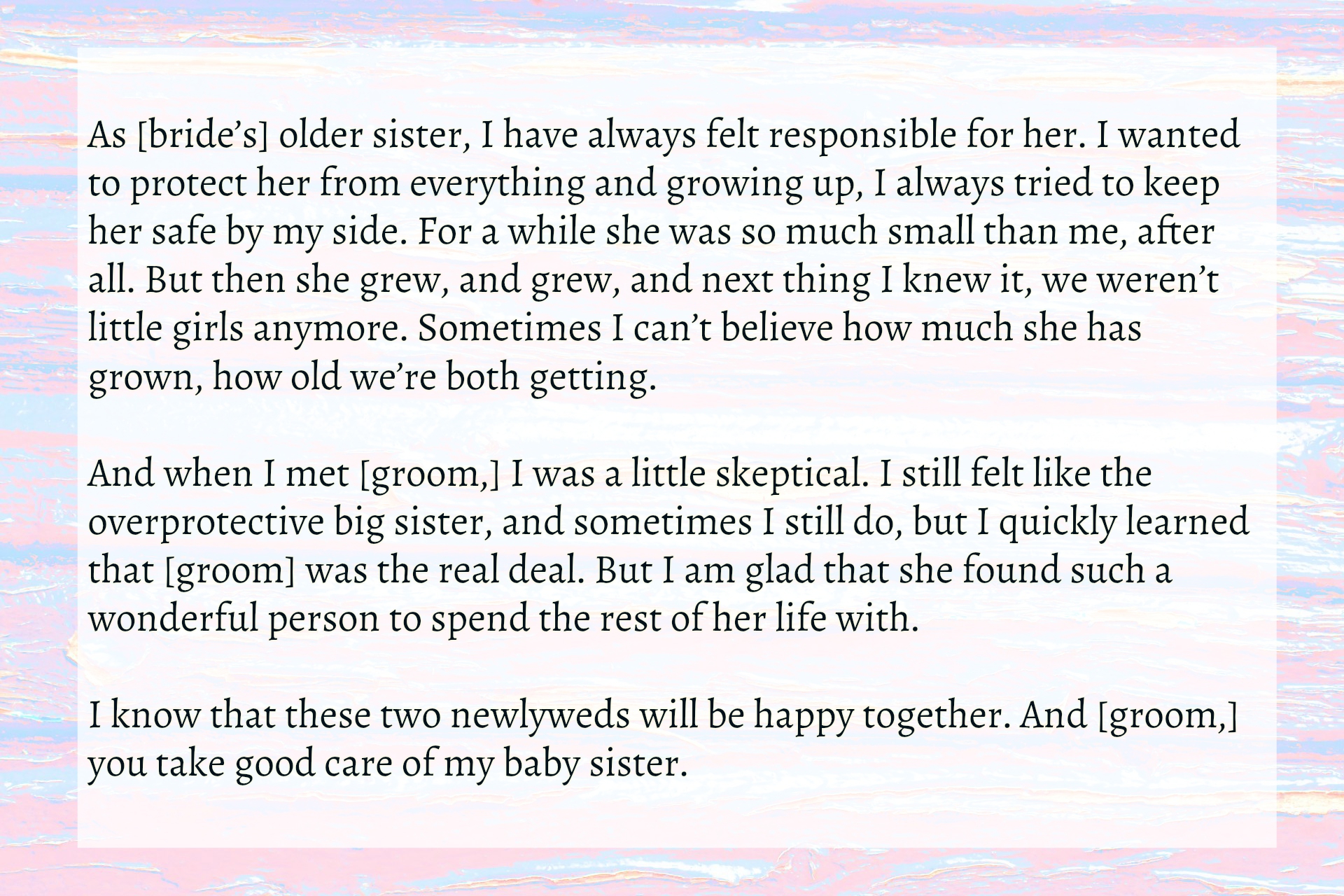 As [bride's] older sister, I have always felt responsible for her. I wanted to protect her from everything and growing up, I always tried to keep her safe by my side. For a while she was so much small than me, after all. But then she grew, and grew, and next thing I knew it, we weren't little girls anymore. Sometimes I can't believe how much she has grown, how old we're both getting.  And when I met [groom,] I was a little skeptical. I still felt like the overprotective big sister, and sometimes I still do, but I quickly learned that [groom] was the real deal. But I am glad that she found such a wonderful person to spend the rest of her life with. I know that these two newlyweds will be happy together. And [groom,] you take good care of my baby sister.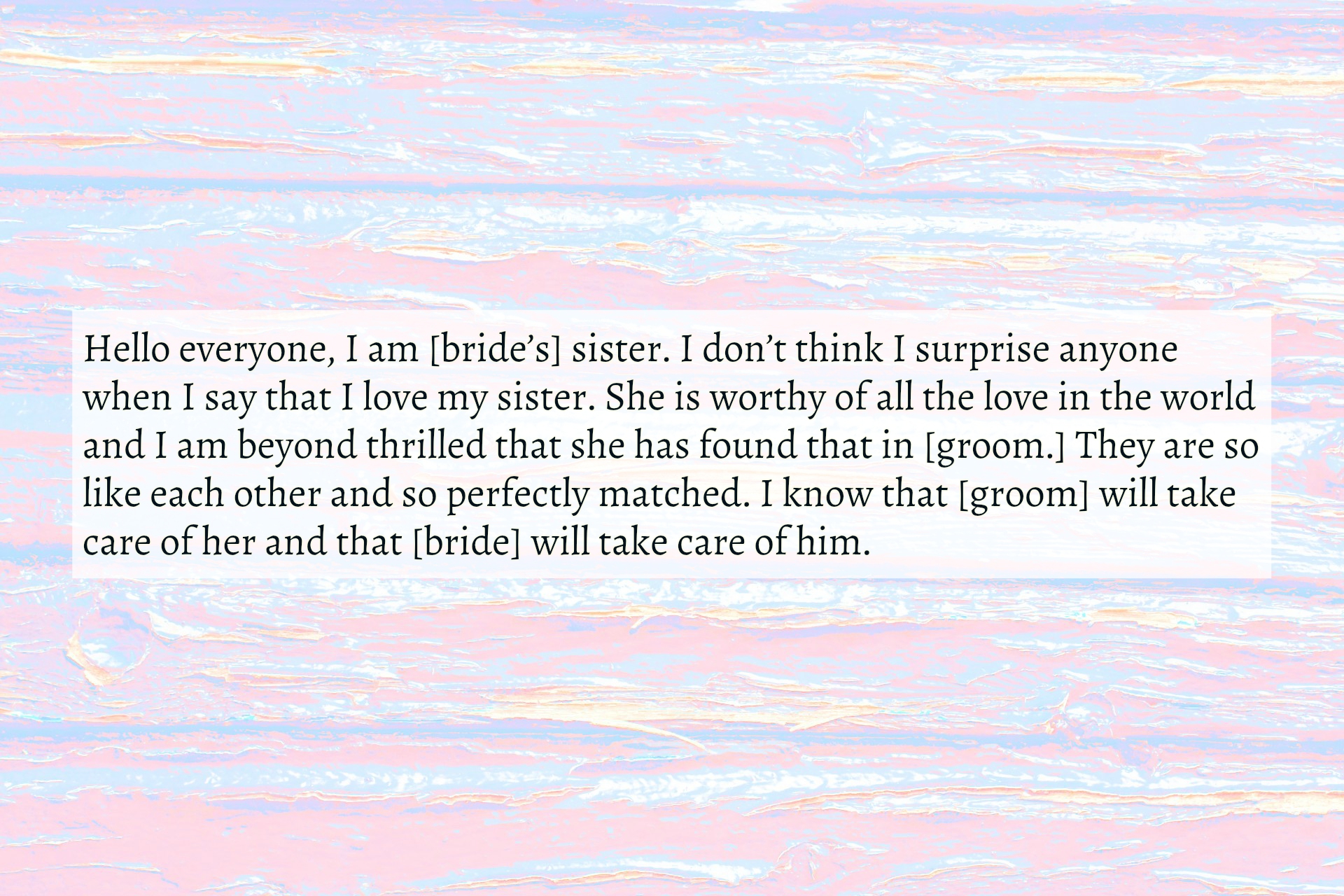 Hello everyone, I am [bride's] sister. I don't think I surprise anyone when I say that I love my sister. She is worthy of all the love in the world and I am beyond thrilled that she has found that in [groom.] They are so like each other and so perfectly matched. I know that [groom] will take care of her and that [bride] will take care of him.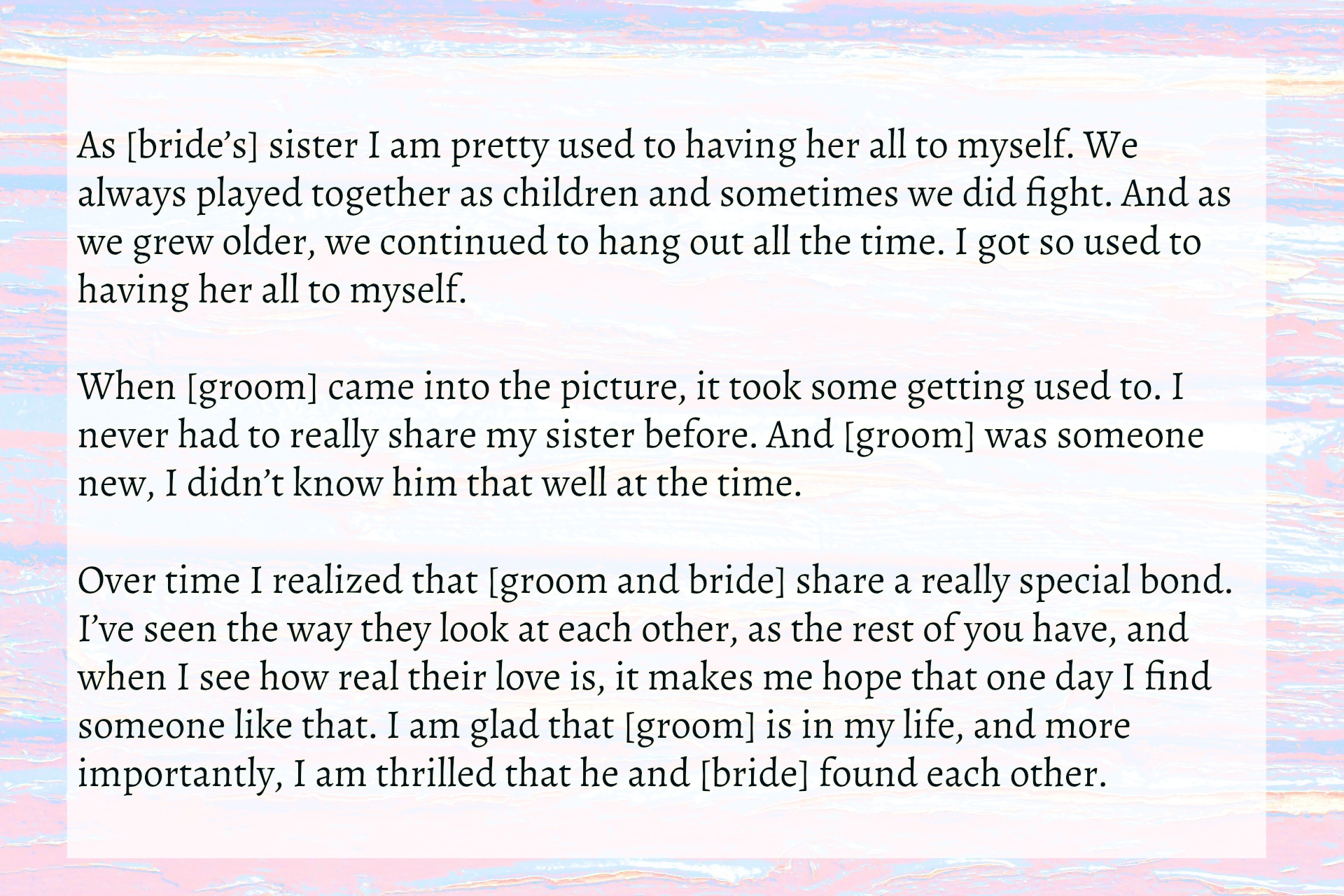 As [bride's] sister I am pretty used to having her all to myself. We always played together as children and sometimes we did fight. And as we grew older, we continued to hang out all the time. I got so used to having her all to myself. When [groom] came into the picture, it took some getting used to. I never had to really share my sister before. And [groom] was someone new, I didn't know him that well at the time. Over time I realized that [groom and bride] share a really special bond. I've seen the way they look at each other, as the rest of you have, and when I see how real their love is, it makes me hope that one day I find someone like that. I am glad that [groom] is in my life, and more importantly, I am thrilled that he and [bride] found each other.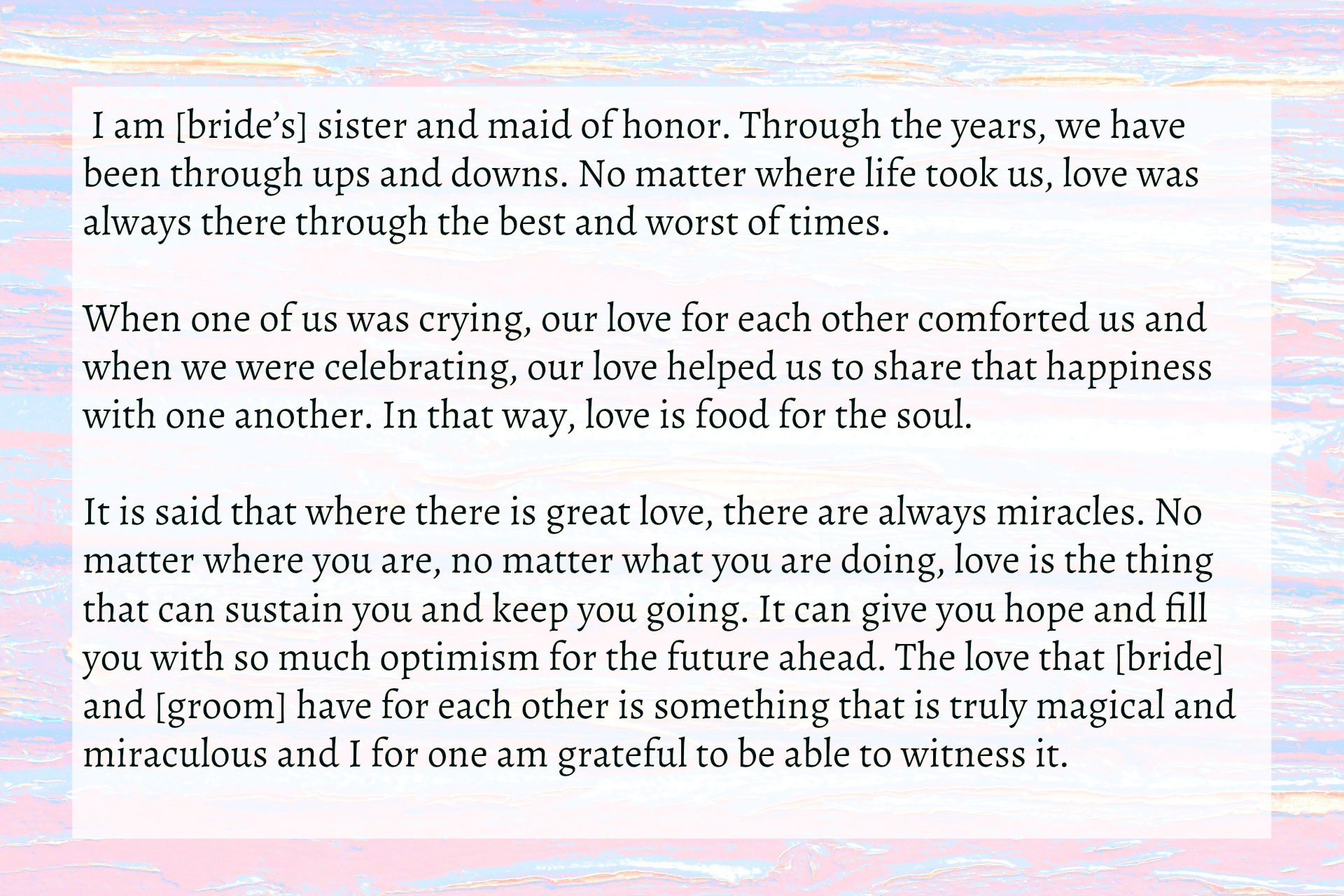 I am [bride's] sister and maid of honor. Through the years, we have been through ups and downs. No matter where life took us, love was always there through the best and worst of times. When one of us was crying, our love for each other comforted us and when we were celebrating, our love helped us to share that happiness with one another. In that way, love is food for the soul. It is said that where there is great love, there are always miracles. No matter where you are, no matter what you are doing, love is the thing that can sustain you and keep you going. It can give you hope and fill you with so much optimism for the future ahead. The love that [bride] and [groom] have for each other is something that is truly magical and miraculous and I for one am grateful to be able to witness it.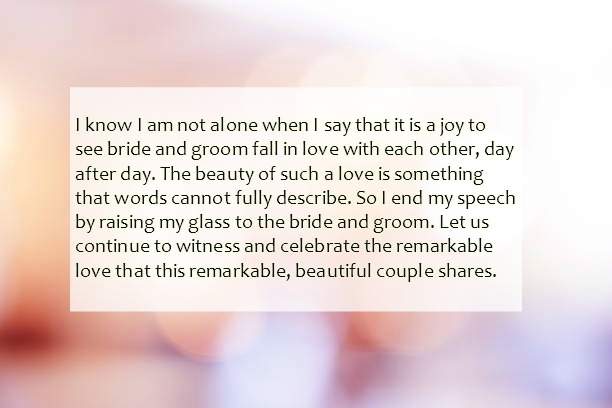 I know I am not alone when I say that it is a joy to see bride and groom fall in love with each other, day after day. The beauty of such a love is something that words cannot fully describe. So I end my speech by raising my glass to the bride and groom. Let us continue to witness and celebrate the remarkable love that this remarkable, beautiful couple shares.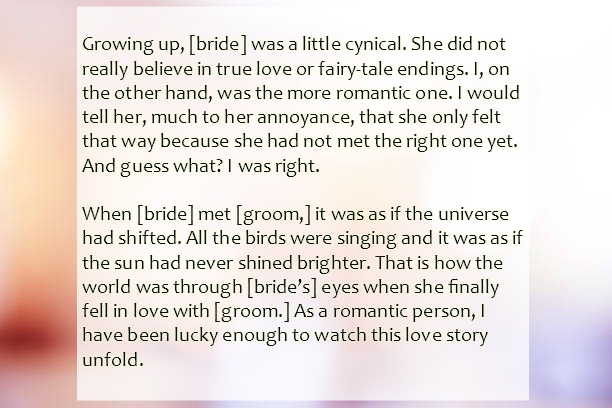 Growing up, [bride] was a little cynical. She did not really believe in true love or fairy-tale endings. I, on the other hand, was the more romantic one. I would tell her, much to her annoyance, that she only felt that way because she had not met the right one yet. And guess what? I was right. When [bride] met [groom,] it was as if the universe had shifted. All the birds were singing and it was as if the sun had never shined brighter. That is how the world was through [bride's] eyes when she finally fell in love with [groom.] As a romantic person, I have been lucky enough to watch this love story unfold.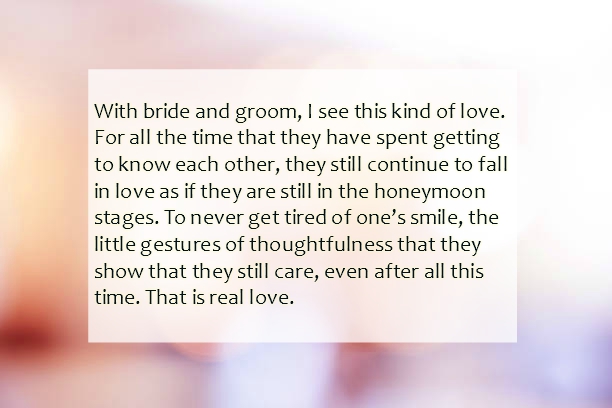 With bride and groom, I see this kind of love. For all the time that they have spent getting to know each other, they still continue to fall in love as if they are still in the honeymoon stages. To never get tired of one's smile, the little gestures of thoughtfulness that they show that they still care, even after all this time. That is real love.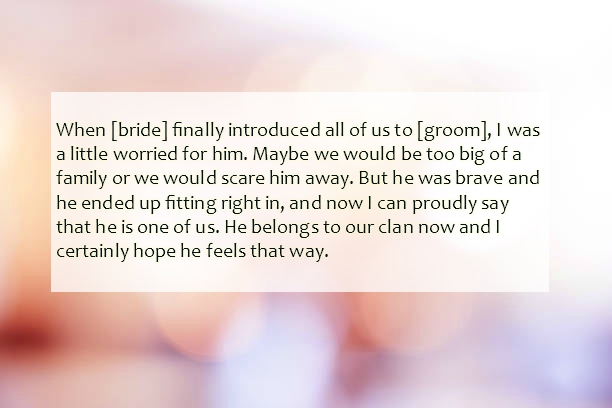 When [bride] finally introduced all of us to [groom], I was a little worried for him. Maybe we would be too big of a family or we would scare him away. But he was brave and he ended up fitting right in, and now I can proudly say that he is one of us. He belongs to our clan now and I certainly hope he feels that way.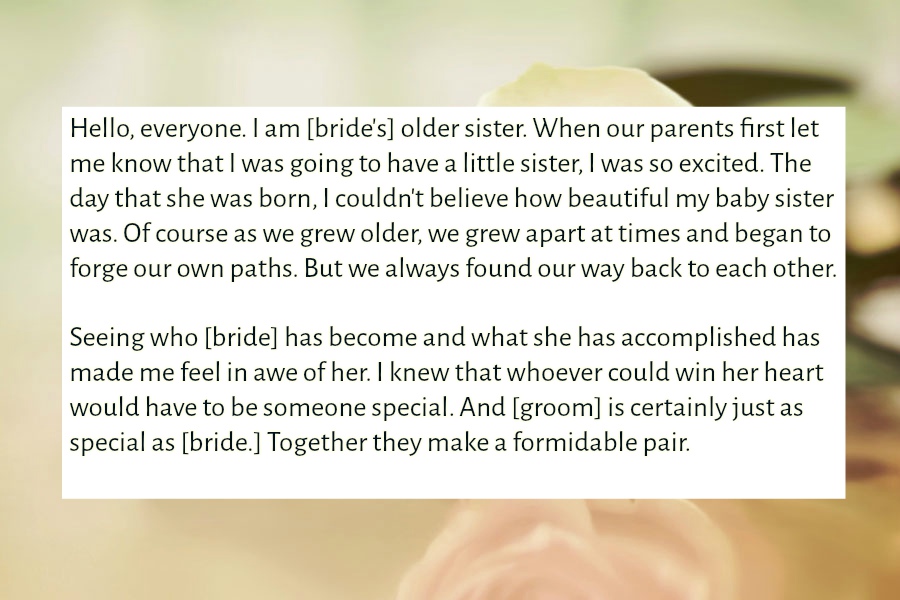 Hello, everyone. I am [bride's] older sister. When our parents first let me know that I was going to have a little sister, I was so excited. The day that she was born, I couldn't believe how beautiful my baby sister was.Of course as we grew older, we grew apart at times and began to forge our own paths. But we always found our way back to each other. Seeing who [bride] has become and what she has accomplished has made me feel in awe of her. I knew that whoever could win her heart would have to be someone special. And [groom] is certainly just as special as [bride.] Together they make a formidable pair.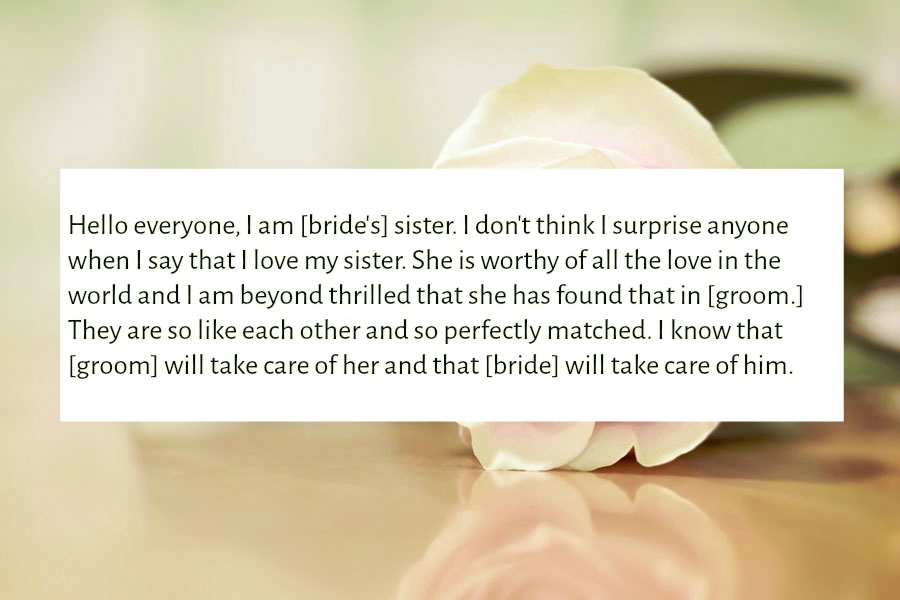 Hello everyone, I am [bride's] sister. I don't think I surprise anyone when I say that I love my sister. She is worthy of all the love in the world and I am beyond thrilled that she has found that in [groom.] They are so like each other and so perfectly matched. I know that [groom] will take care of her and that [bride] will take care of him.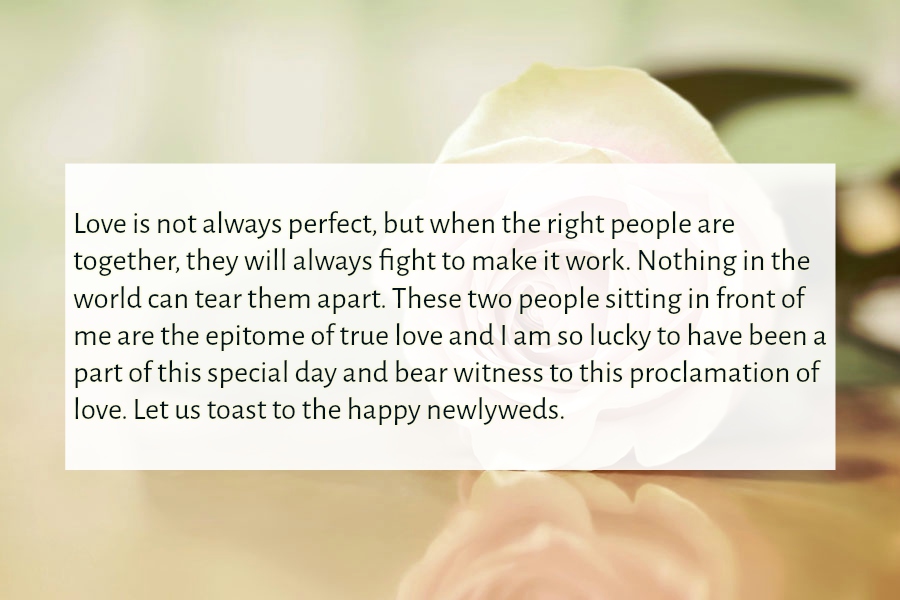 Love is not always perfect, but when the right people are together, they will always fight to make it work. Nothing in the world can tear them apart. These two people sitting in front of me are the epitome of true love and I am so lucky to have been a part of this special day and bear witness to this proclamation of love. Let us toast to the happy newlyweds.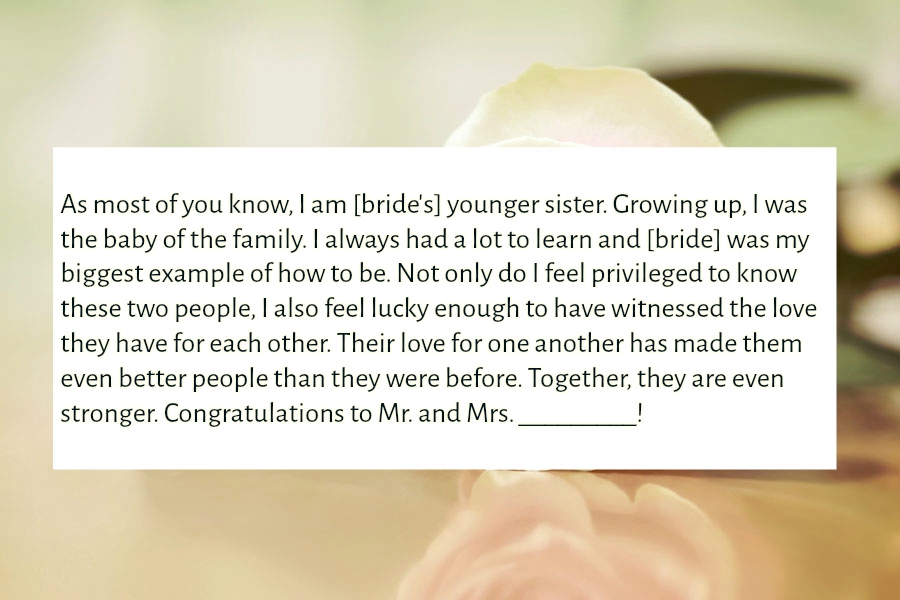 As most of you know, I am [bride's] younger sister. Growing up, I was the baby of the family. I always had a lot to learn and [bride] was my biggest example of how to be. Not only do I feel privileged to know these two people, I also feel lucky enough to have witnessed the love they have for each other. Their love for one another has made them even better people than they were before. Together, they are even stronger. Congratulations to Mr. and Mrs. _________!