A remarkable poet, human rights activist, great storyteller, an inspirational autobiographer and Hollywood's first female black director, Maya Angelou has helped shaped the sphere of writing and cultural equality. Here's a glimpse of her beautiful poems that have touched the readers in unique way.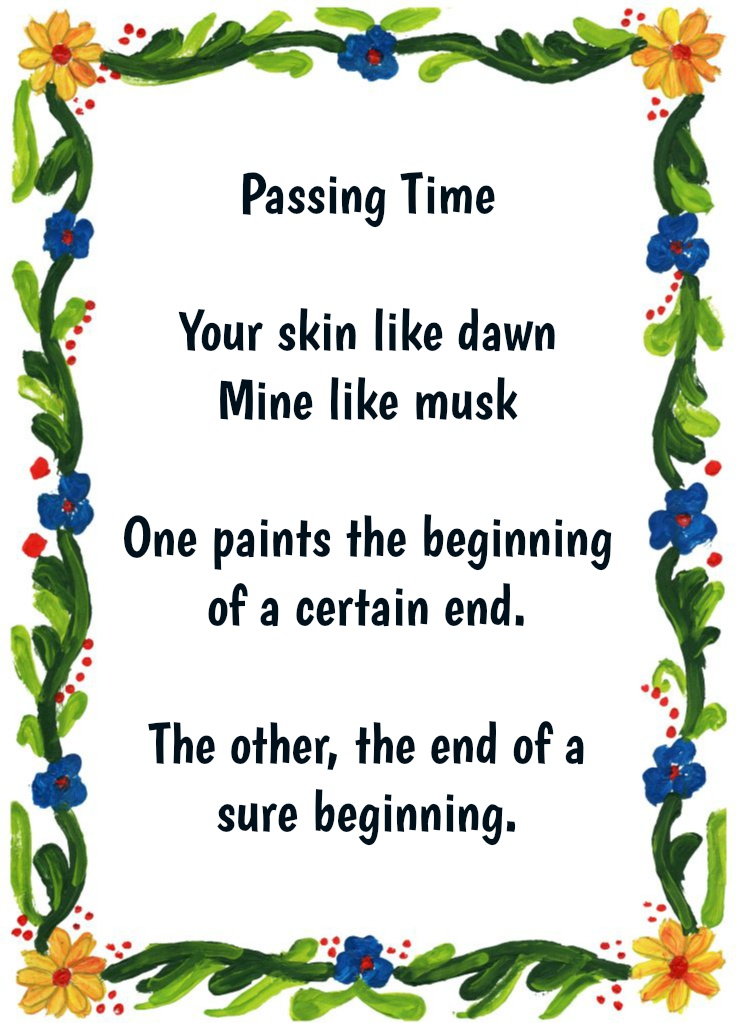 Passing Time
Your skin like dawn
Mine like musk
One paints the beginning
of a certain end.
The other, the end of a
sure beginning.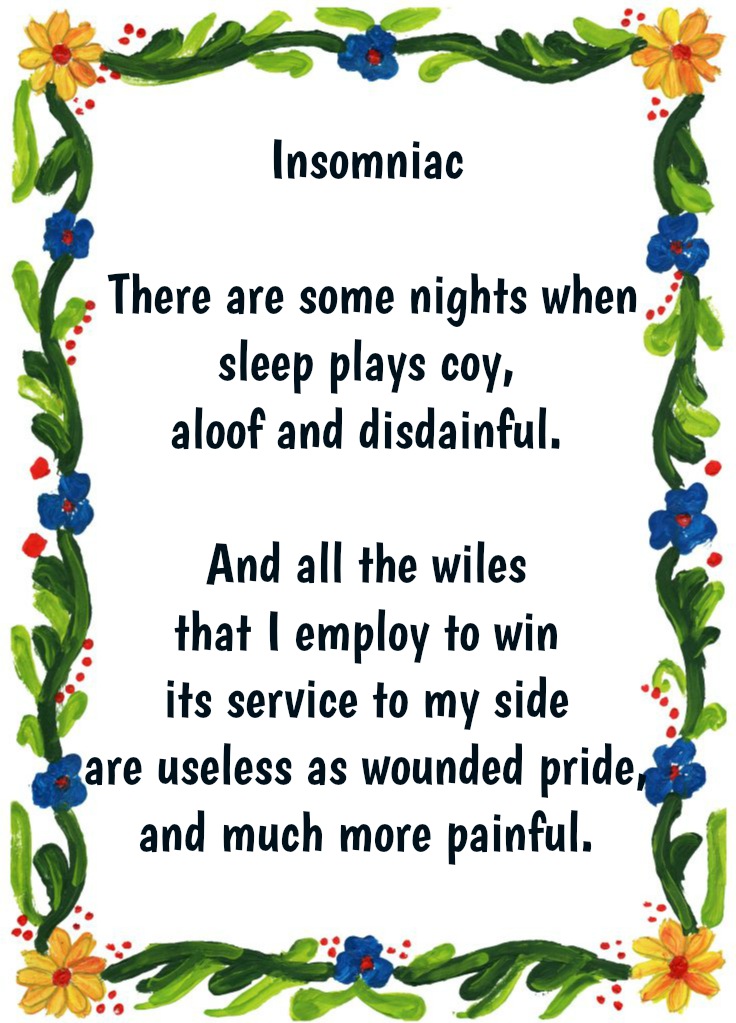 Insomniac
There are some nights when
sleep plays coy,
aloof and disdainful.
And all the wiles
that I employ to win
its service to my side
are useless as wounded pride,
and much more painful.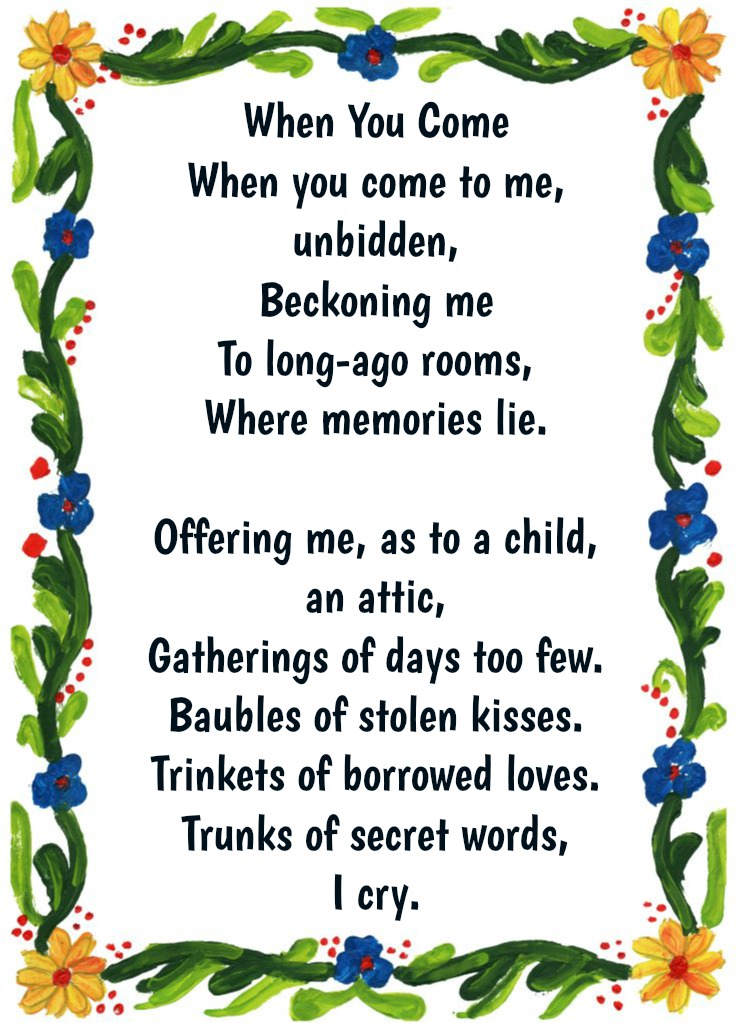 When You Come
When you come to me, unbidden,
Beckoning me
To long-ago rooms,
Where memories lie.
Offering me, as to a child, an attic,
Gatherings of days too few.
Baubles of stolen kisses.
Trinkets of borrowed loves.
Trunks of secret words,
I cry.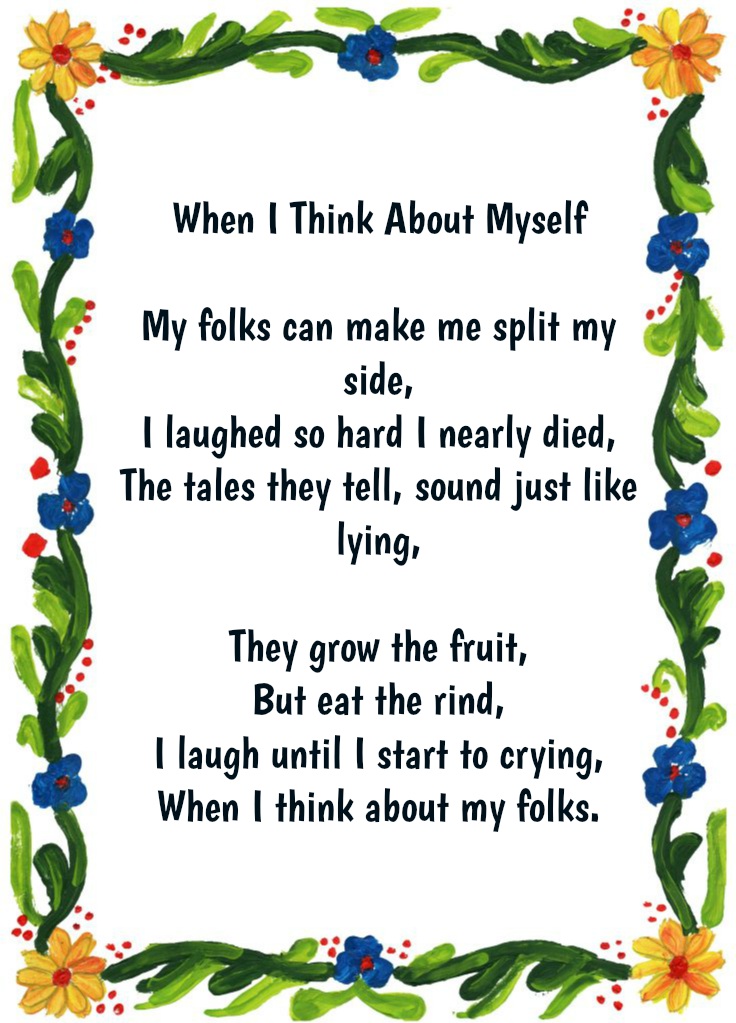 When I Think About Myself
My folks can make me split my side,
I laughed so hard I nearly died,
The tales they tell, sound just like lying,
They grow the fruit,
But eat the rind,
I laugh until I start to crying,
When I think about my folks.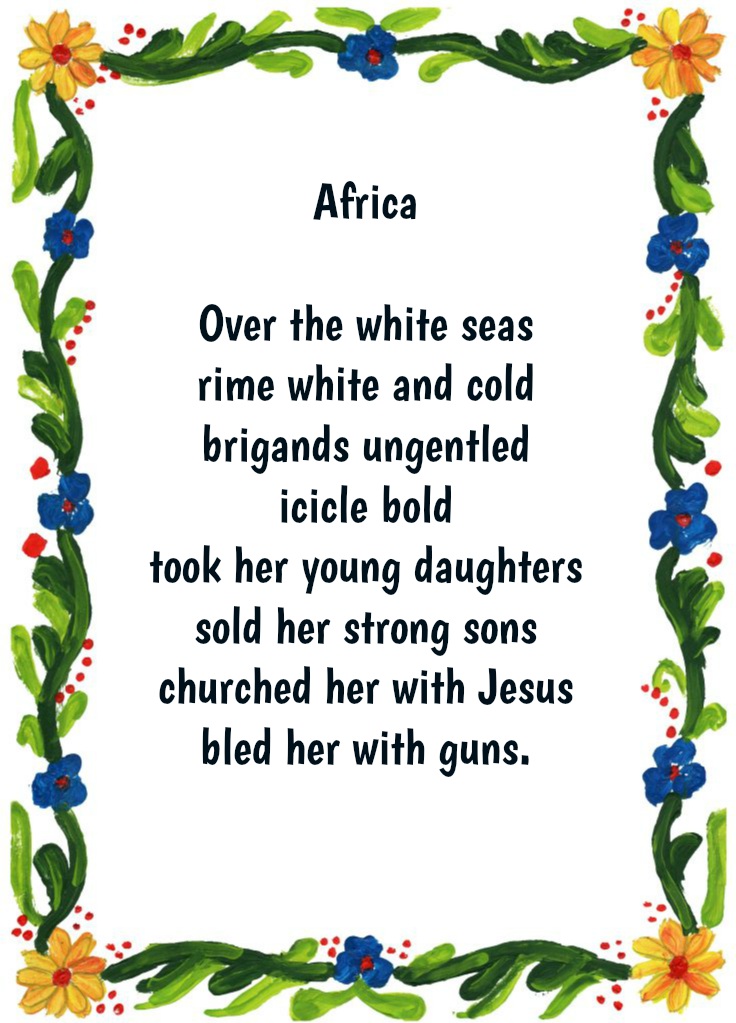 Africa
Over the white seas
rime white and cold
brigands ungentled
icicle bold
took her young daughters
sold her strong sons
churched her with Jesus
bled her with guns.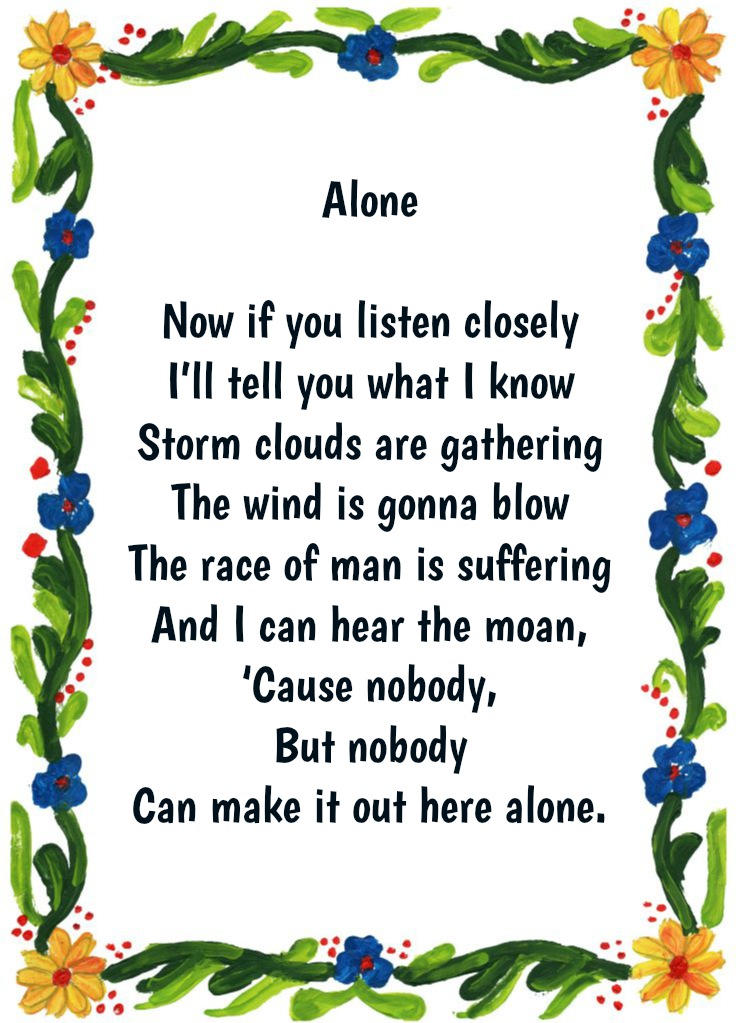 Alone
Now if you listen closely
I'll tell you what I know
Storm clouds are gathering
The wind is gonna blow
The race of man is suffering
And I can hear the moan,
'Cause nobody,
But nobody
Can make it out here alone.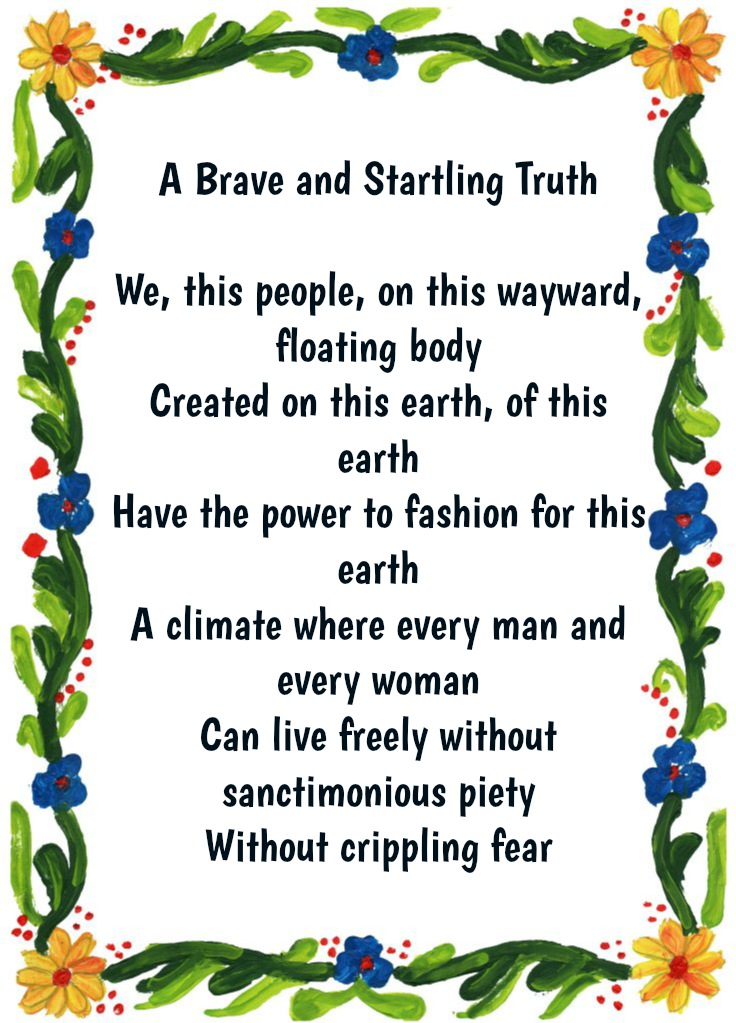 A Brave and Startling Truth
We, this people, on this wayward, floating body
Created on this earth, of this earth
Have the power to fashion for this earth
A climate where every man and every woman
Can live freely without sanctimonious piety
Without crippling fear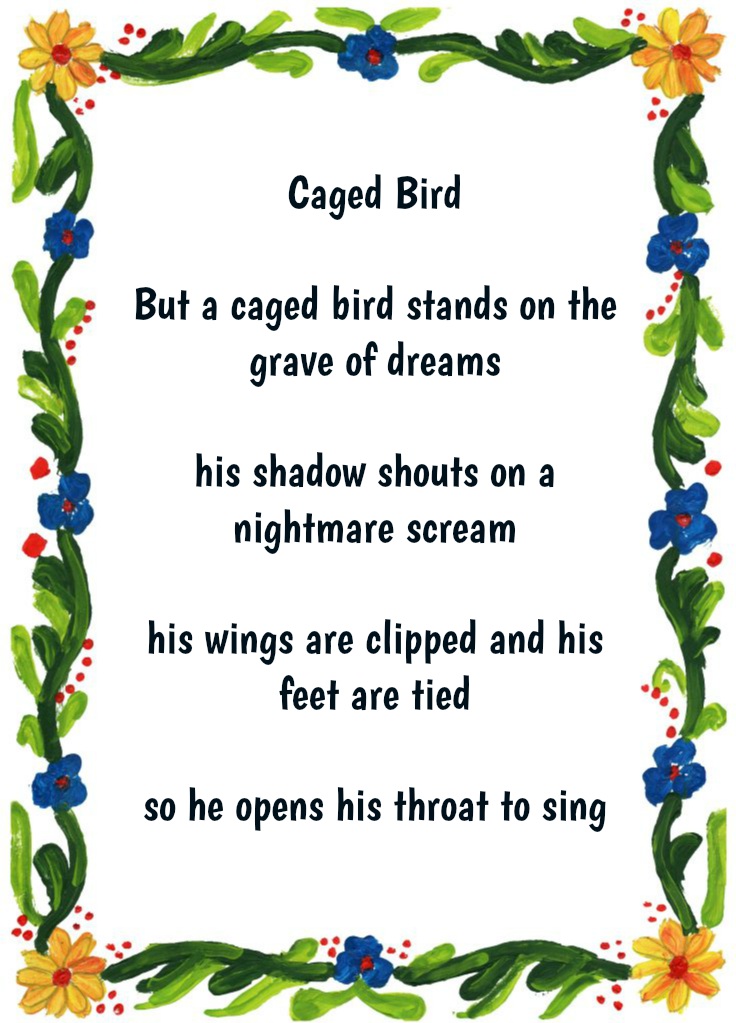 Caged Bird
But a caged bird stands on the grave of dreams
his shadow shouts on a nightmare scream
his wings are clipped and his feet are tied
so he opens his throat to sing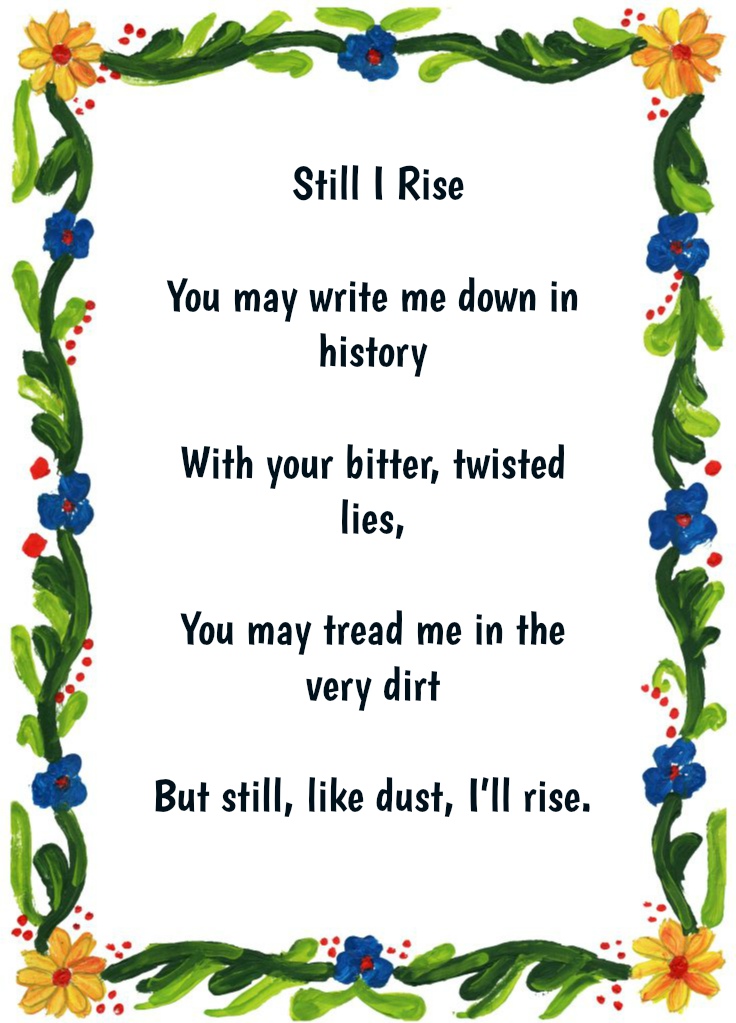 Still I Rise
You may write me down in history
With your bitter, twisted lies,
You may tread me in the very dirt
But still, like dust, I'll rise.