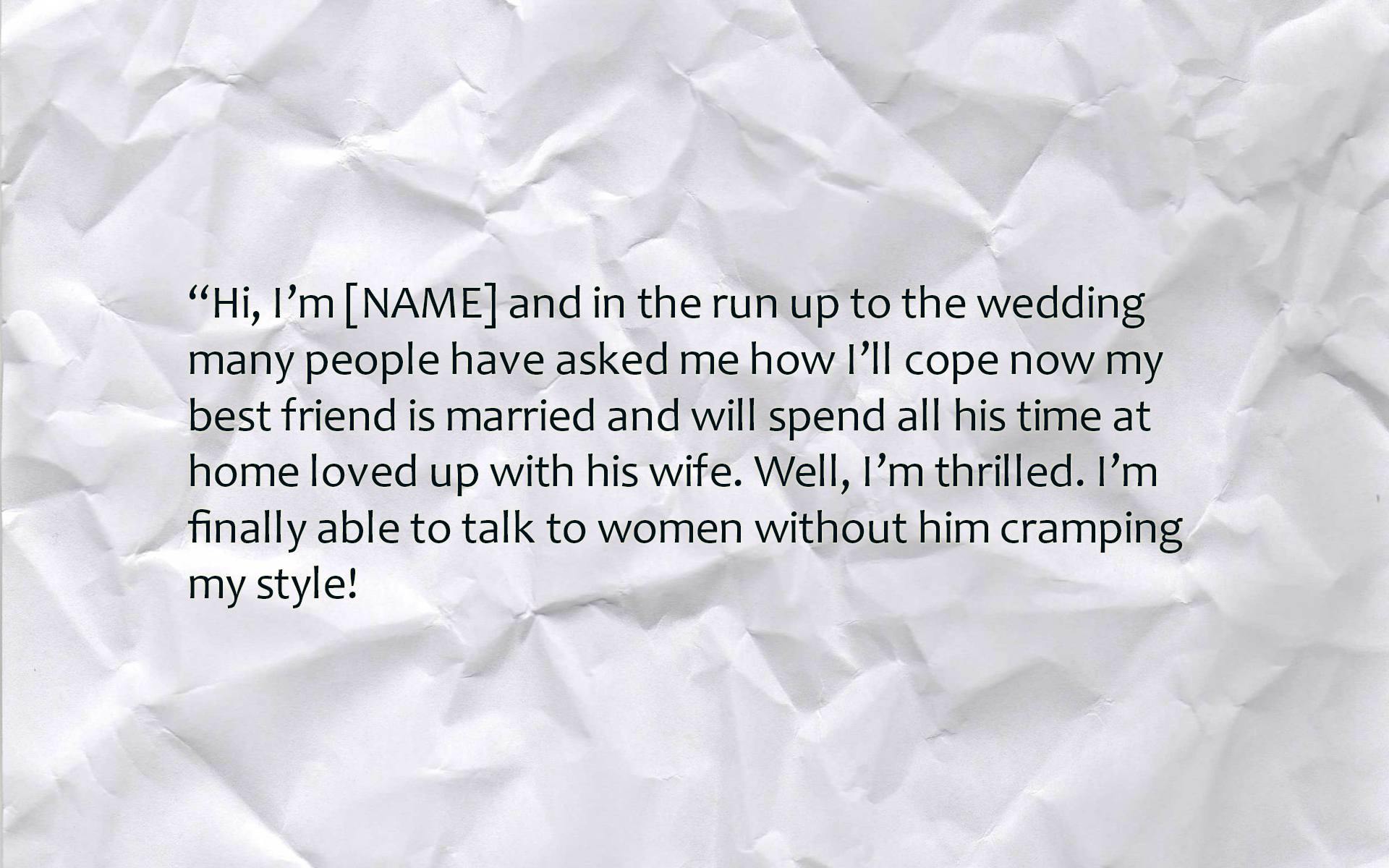 "Hi, I'm [NAME] and in the run up to the wedding many people have asked me how I'll cope now my best friend is married and will spend all his time at home loved up with his wife. Well, I'm thrilled. I'm finally able to talk to women without him cramping my style!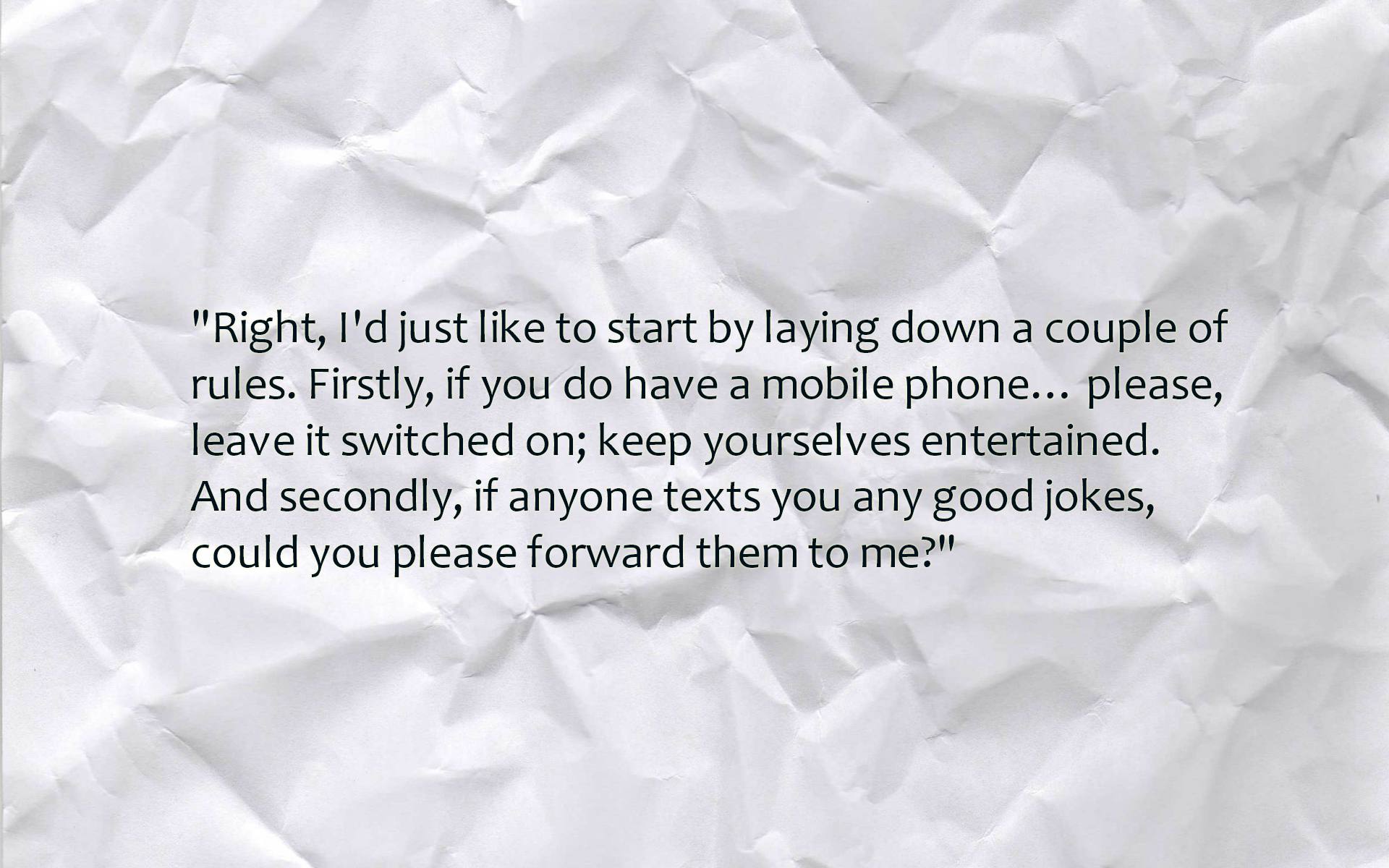 "Right, I'd just like to start by laying down a couple of rules. Firstly, if you do have a mobile phone… please, leave it switched on; keep yourselves entertained. And secondly, if anyone texts you any good jokes, could you please forward them to me?"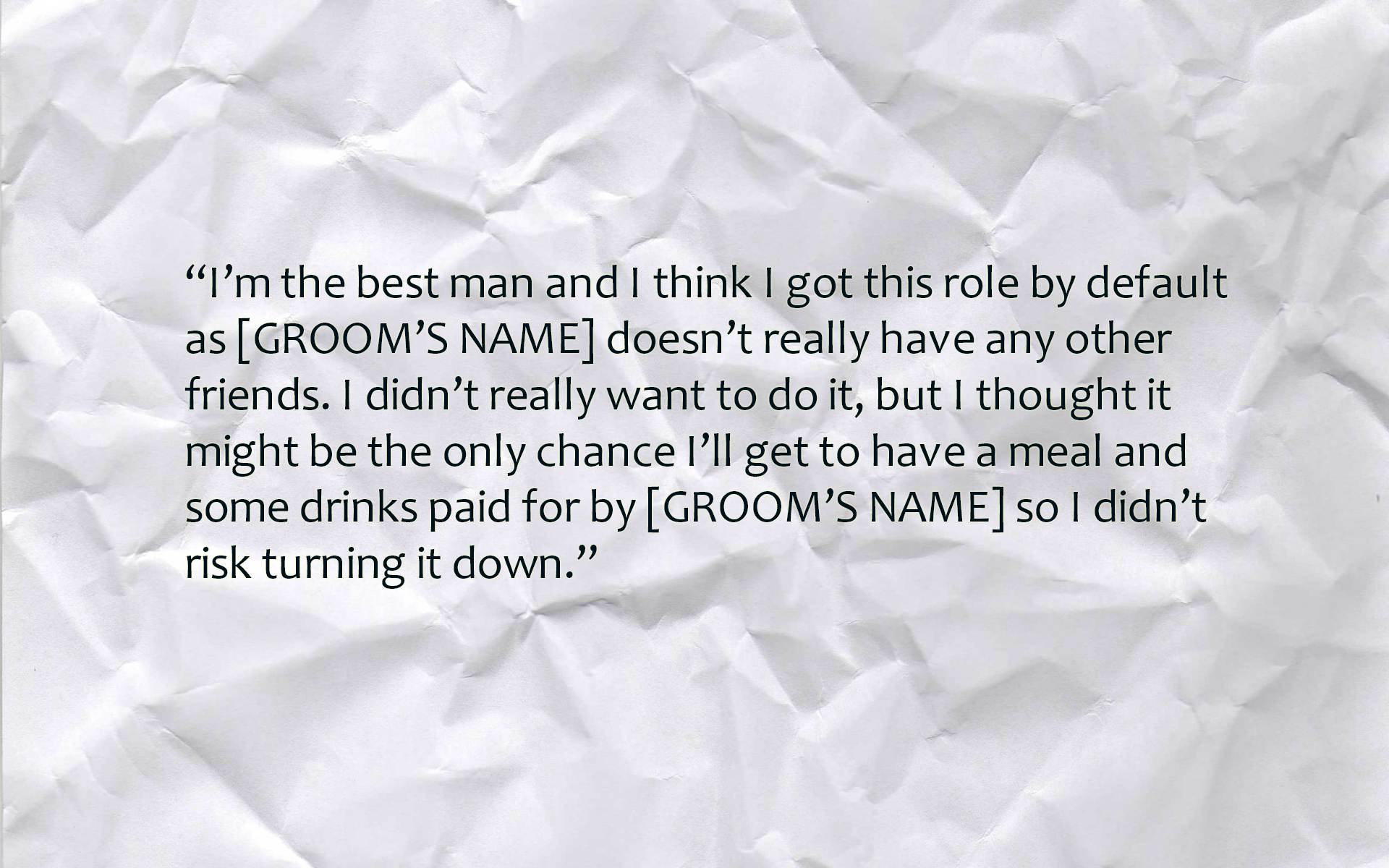 "I'm the best man and I think I got this role by default as [GROOM'S NAME] doesn't really have any other friends. I didn't really want to do it, but I thought it might be the only chance I'll get to have a meal and some drinks paid for by [GROOM'S NAME] so I didn't risk turning it down."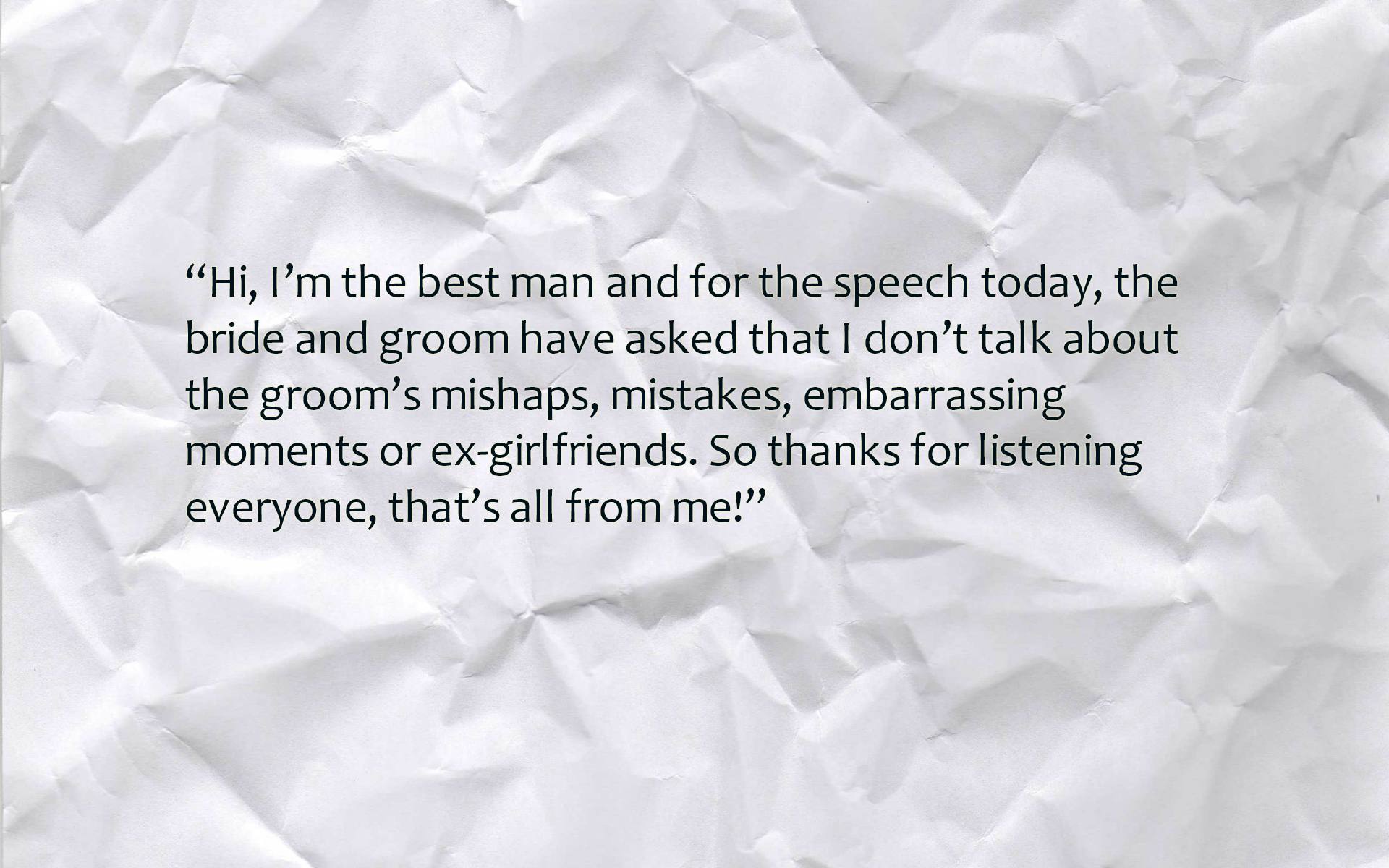 "Hi, I'm the best man and for the speech today, the bride and groom have asked that I don't talk about the groom's mishaps, mistakes, embarrassing moments or ex-girlfriends. So thanks for listening everyone, that's all from me!"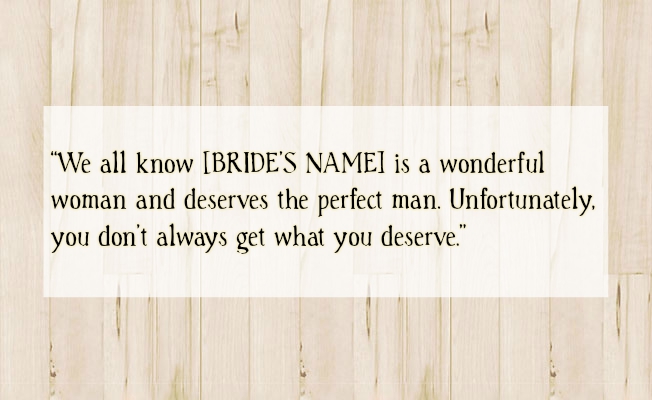 "We all know [BRIDE'S NAME] is a wonderful woman and deserves the perfect man. Unfortunately, you don't always get what you deserve."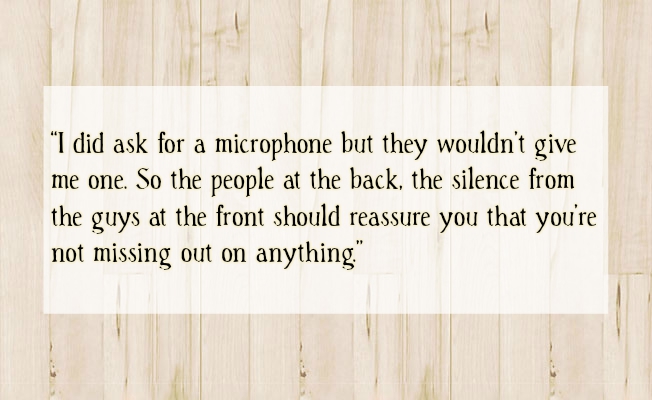 "I did ask for a microphone but they wouldn't give me one. So the people at the back, the silence from the guys at the front should reassure you that you're not missing out on anything."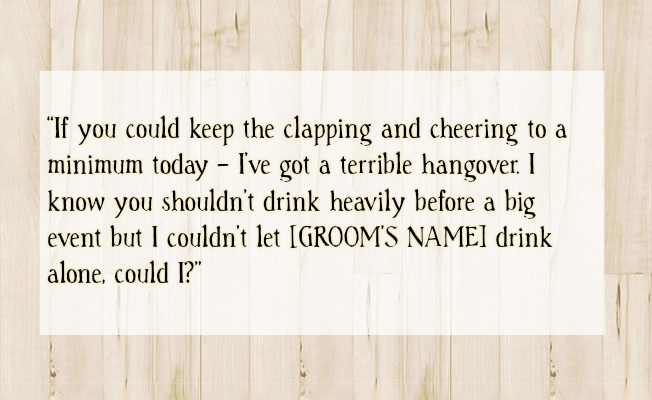 "If you could keep the clapping and cheering to a minimum today – I've got a terrible hangover. I know you shouldn't drink heavily before a big event but I couldn't let [GROOM'S NAME] drink alone, could I?"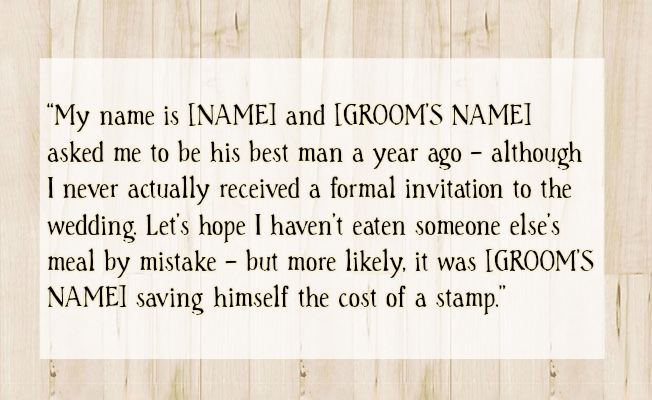 "My name is [NAME] and [GROOM'S NAME] asked me to be his best man a year ago – although I never actually received a formal invitation to the wedding. Let's hope I haven't eaten someone else's meal by mistake – but more likely, it was [GROOM'S NAME] saving himself the cost of a stamp."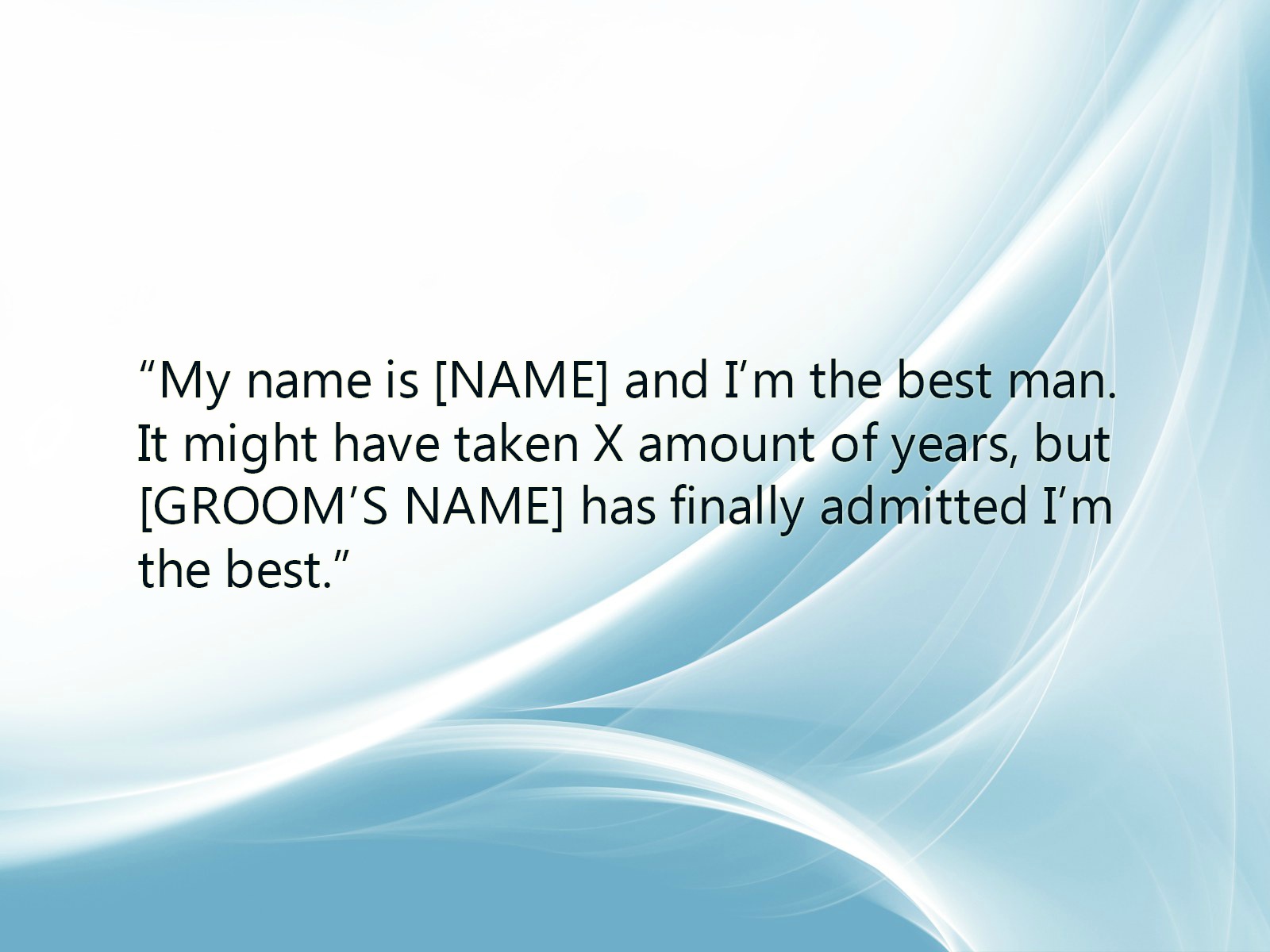 "My name is [NAME] and I'm the best man. It might have taken X amount of years, but [GROOM'S NAME] has finally admitted I'm the best."
"Hello, I'm [NAME] and I'm here to tell you all about [GROOM'S NAME] and how wonderful, handsome and…sorry, mate, I can't read your writing."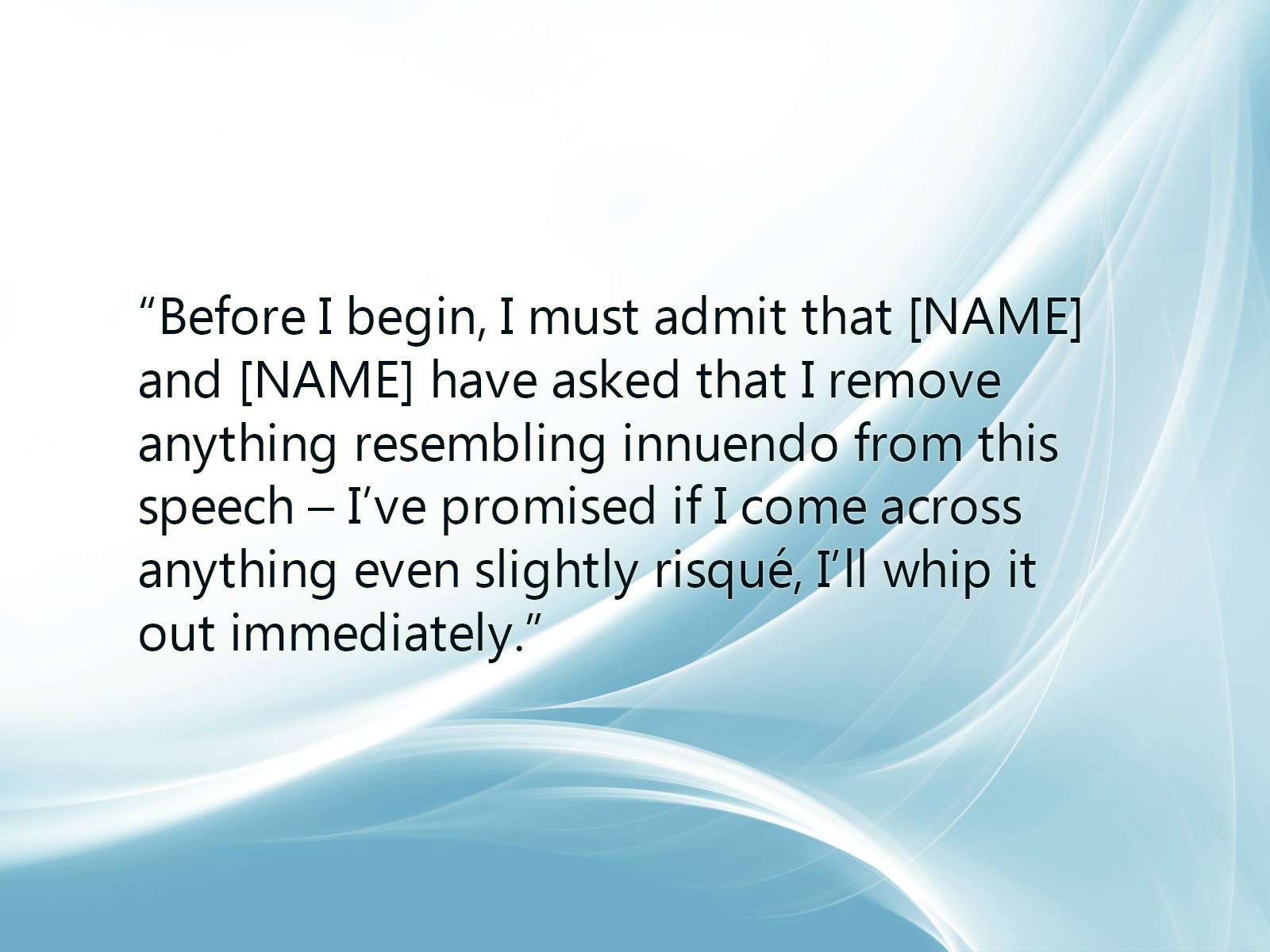 "Before I begin, I must admit that [NAME] and [NAME] have asked that I remove anything resembling innuendo from this speech – I've promised if I come across anything even slightly risqué, I'll whip it out immediately."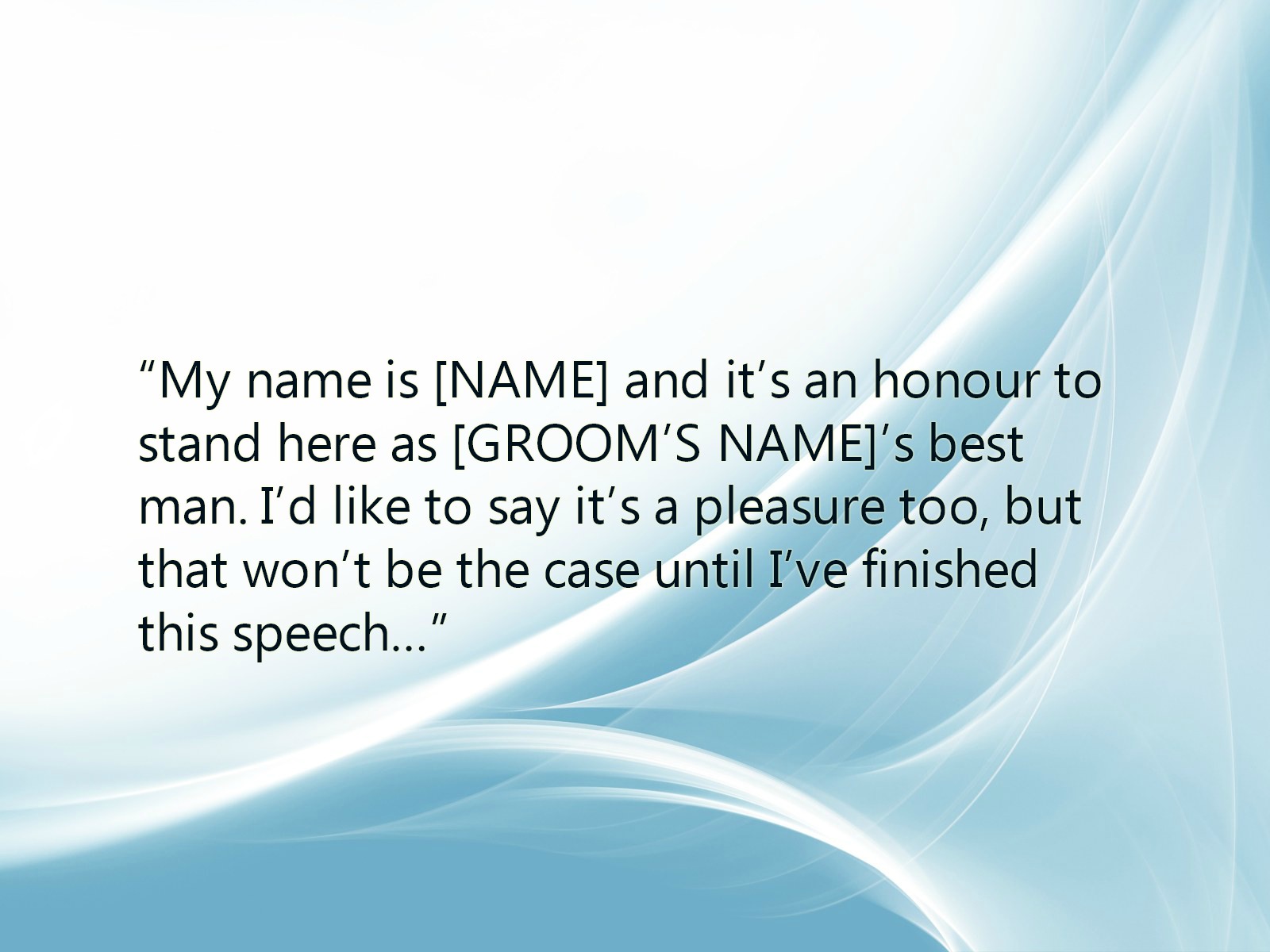 "My name is [NAME] and it's an honour to stand here as [GROOM'S NAME]'s best man. I'd like to say it's a pleasure too, but that won't be the case until I've finished this speech…"
About Our Funny Best Man Speeches:
Marriage is something to look forward to, not just for the bride and groom, but also for the best man. Luckily or sometimes unluckily, being a best man is fulfilling and embarrassing at the same time. But of course, if you are given the position to be a best man, grab the once in a lifetime opportunity of creating something remarkable in your life (and embarrassing yourself in front of a hundred spectators!) Seriously, be prepared for it. One popular responsibility of a best man is to create and deliver a semi-decent speech during the wedding. If you are used to making fun and poking faces in front of a crowd, then that would be easier for you. However, admit it, creating a funny best man speech could drain your senses, not to mention your vocabulary. It will take hours or even days to create an engaging speech for your best buddy and his wife because your thoughts are clouding up. And before you know it, the wedding will be due tomorrow but you still haven't finished a sentence on your speech. Well, you are lucky enough because here are some of best witty and funny best man speeches that would totally save you.